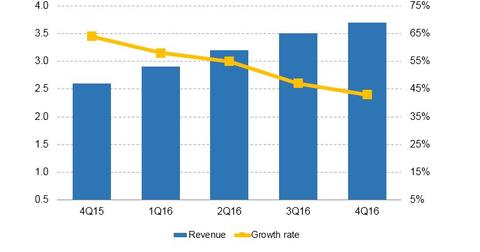 Do Amazon Web Services Price Cuts Show Strength or Weakness?
By Neha Gupta

Updated
AWS prices fall up to 21%
Amazon (AMZN) has cut the prices of its cloud computing services several dozen times, and it recently announced another round of AWS (Amazon Web Services) price cuts.
The latest price cut, which reduced cloud prices by between 5% and 21%, marked the 61st time that Amazon lowered the cost of using AWS.
In Amazon's own words, the price cuts are a sign of its strength in the cloud computing market. The company talks about the price cuts being enabled by its ability to develop hardware and software technologies that are more efficient and cost effective. It says these technologies allow it to drive down costs and pass the benefits on to its cloud customers.
Article continues below advertisement
AWS growth slows to 43%
However, a look at Amazon's most recent quarter report seems to contradict Amazon's explanation. For instance, AWS sales growth slowed to 43.0% in 1Q17, compared to its growth of 47.0% in the previous quarter. Additionally, AWS's operating margins shrank to 24.3% in the most recent quarter, compared to 26.2% in the previous quarter.
AWS sales came in at $3.7 billion in 1Q17.
Rivals avoiding price wars
Amazon is also cutting the prices of its cloud services at a time when competitors such as Alphabet's (GOOGL) Google are ditching cloud price wars. Google recently said that it would focus on competing on the basis value rather than prices.
It seems that for Amazon, cutting cloud prices is inevitable unless it wants to lose its lead to Microsoft (MSFT) or other competitors such as Oracle (ORCL), IBM (IBM), and Google.