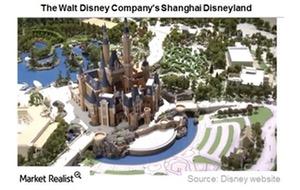 Why Disney Expects Shanghai Disneyland to Be a Rising Star
By Shirley Pelts

May. 15 2017, Updated 9:07 a.m. ET
Shanghai Disneyland
The Walt Disney Company's (DIS) Disneyland in China (FXI) is proving to be extremely popular. Last year, Disney opened its Disneyland theme park in Shanghai, China (FXI). Disney stated during its fiscal 2Q17 earnings call that Shanghai Disneyland was close to welcoming 10 million visitors. The company further stated that the popularity of the theme park could be gauged from the fact that attendance at its theme park exceeds Disney's expectations.
Article continues below advertisement
Disney also plans to add Toy Story Land to Shanghai Disneyland and expects this new attraction to further propel the theme park's popularity. Disney also stated that, while Shanghai Disneyland was "modestly profitable" in fiscal 2Q17, the company expects the theme park to incur an operating loss in fiscal 3Q17 as a result of the seasonality factor. However, Disney still expects Shanghai Disneyland to break even in fiscal 2017.
Disney's other international theme parks
When it comes to Disney's international theme parks, the company has also announced an expansion at its Hong Kong theme park that will cost the company around $1.4 billion and include a hotel at the theme park.
In February this year, Disney also announced that it was looking at increasing its stake in Euro Disney from 76.7% to 85.7%. Euro Disney (EWU) is the parent company of Disneyland Paris.
Disney intends to increase its stake by buying out the stake of Kingdom Holding Co. in Euro Disney for $155 million. Disney plans to invest around $1.6 billion in Disneyland Paris to boost the theme park's financial position. According to a Variety report from February this year, Disneyland Paris continues to suffer from declining attendance after the November 2015 terrorist attack in Paris.