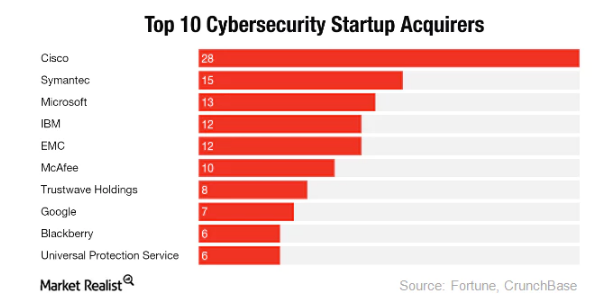 Could Hexadite Mark the Onset of Microsoft's M&A Spree?
By Anne Shields

Nov. 20 2020, Updated 2:32 p.m. ET
WannaCry ransomware brought cybersecurity firms into focus
Previously in this series, we discussed Microsoft's (MSFT) increased focus on the cybersecurity space and its strategic acquisition of Hexadite. Hexadite's acquisition is timely considering the global impact of the WannaCry ransomware cyberattack. 
Believed to be the world's largest cyberattack, WannaCry ransomware infected more than 230,000 computers in almost 150 countries. 
Computers with Microsoft operating systems that had not been updated with a particular patch were more prone to the ransomware attack, which encrypted most of the files on infected computers.
Article continues below advertisement
Although Microsoft released a security update to patch the vulnerability, and updated computers were protected, Microsoft was criticized for its role in ransomware propagation. A significant number of computers used by governments, businesses, and hospitals were not updated and were severely impacted.
After cloud, digital security ranks highest in IT spending in 2017
Despite year-over-year increased spending on cybersecurity, the increase in digital thefts, data breaches, and malware and ransomware attacks indicates that cyberthreats are constantly changing. The sophistication and dynamics of these cyberattacks are continually improving. As a result, spending on cybersecurity is expected to increase significantly.
Citing Morgan Stanley's (MS) survey results of IT executives, digital security software was cited as the second-ranked spending priority in 2017 after cloud computing. Cybersecurity Ventures expects overall global spending on cybersecurity to exceed $1.0 trillion in the next five years.
This increased focus and spending on cybersecurity can instigate an M&A spree in the cybersecurity space. We believe that Microsoft could continue along its acquisition route to enhance its reach and domain expertise in cloud, as well as to generate revenues and earnings.
The chart above shows the companies that have made the most cybersecurity acquisitions. Cisco Systems (CSCO), which leads the security appliance space, tops the list and is followed by Symantec (SYMC). 
Symantec's purchase of Blue Coat Systems in mid-2016 is viewed as the most significant acquisition in the cybersecurity space so far, followed by Microsoft (MSFT). IBM (IBM) is also keen to expand its security portfolio.