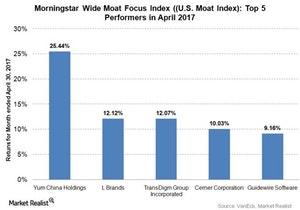 U.S. Moat Index: Analyzing Its Performance in April
By VanEck

Nov. 20 2020, Updated 11:06 a.m. ET
VanEck
U.S. Domestic Moats: Yum!
Yum China Holdings (YUMC US, +25.44%) was a standout performer in the U.S. Moat Index in April. The firm was spun out of another current Index constituent, Yum! Brands, Inc. (YUM US) in October 2016. YUMC US has since operated as a standalone business that licenses the Yum! Brands and is poised to benefit from the growing consumer base throughout China. Other consumer discretionary firms such as L Brands, Inc. (LB US, +12.12%), which offers the Victoria's Secret brand, helped elevate the consumer discretionary sector to the top contributor to U.S. Moat Index returns for the month. Information Technology companies and Industrials firms were also strong contributors for the month.
Article continues below advertisement
Market Realist
Index reconstitution benefited US domestic moats in April
One of the Morningstar Wide Moat Focus Index's (MOAT) sub-portfolio reconstitution happened in March. Nine stocks were added and nine stocks were removed in line with its staggered rebalancing approach. Reconstitution contributed to the index's outperformance in April. The index's top five performers were part of the nine added stocks.
Yum China Holdings (YUMC) returned 25.4% in April due to its strong 1Q17 results. Its net earnings for the quarter rose 21%, while earnings per share rose 12% YoY. Same-store sales rose 1% during the quarter due to 1% growth at Kentucky Fried Chicken and 2% growth at Pizza Hut Casual Dining. The company reconfirmed its forecast of achieving double-digit growth in operating profit for 2017.
Yum China Holdings plans to achieve growth through its expanding consumer base. As of February, the company has 7,600 locations in China. It's on course to meet its target of opening 550–600 new restaurants in 2017. Another addition to the index is L Brands (LB), which returned 12% in April due to strong results in March. Victoria's Secret maintained its strength.
Aerospace and defense stock TransDigm Group (TDG) rose 12% in April following President Trump's proposal to boost the defense spending budget by $54 million. Two other additions, Cerner (CERN) and Guidewire Software (GWRE), added to the U.S. Moat Index's performance in April.
In the next part, we'll discuss the detractors in the index's performance in April.
For the latest MOAT Reconstitution report, look at the Morningstar Wide Moat Focus Index.
For a list of MOAT's current constituents, look at the VanEck Vectors Morningstar Wide Moat ETF.