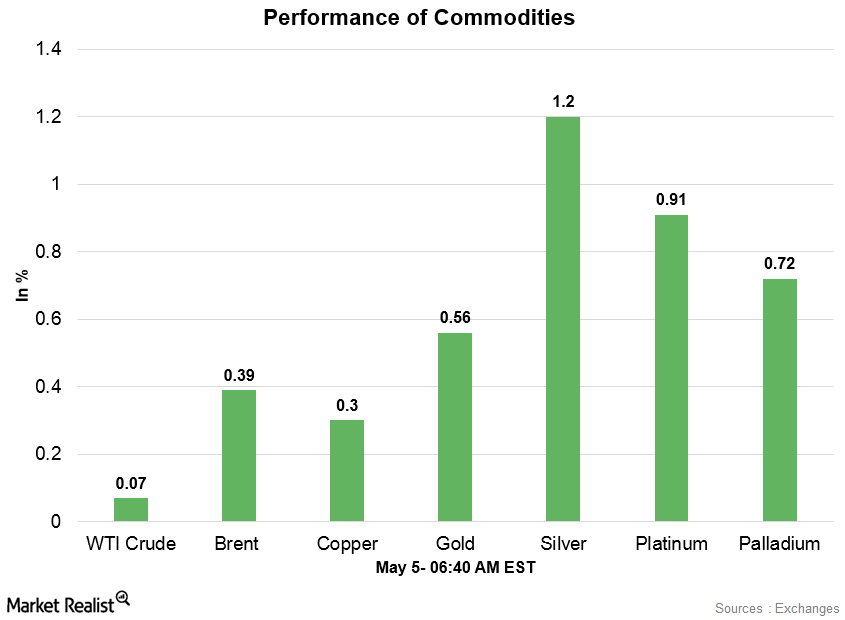 Commodities Stable in Early Hours as Gold Shines amid Caution
Crude oil
After slumping to a five-month low on May 4, 2017, crude oil's price was weak in the early hours of May 5. The market sentiment is weak amid supply glut fears amid high inventory levels.
Article continues below advertisement
Oil at a five-month low
The oil market has been weaker since mid-April amid rising US shale oil production and a higher US oil rig count. The market found some support around $50 amid expectations of a rise in output cuts by OPEC (Organization of the Petroleum Exporting Countries) and non-OPEC producers.
Prices slumped lower to mid-November levels overnight amid doubts about the extension of the supply cut agreement. November was the month in which producers decided to cut supply to support lower crude oil prices. The market is looking forward to the release of US oil rig count data by Baker Hughes at 1:00 PM EST today.
At 6:25 AM EST, West Texas Intermediate crude oil futures contracts for June 2017 delivery were trading at $45.50 per barrel, a fall of ~0.04%. Brent crude futures contracts for July 2017 delivery rose ~0.25% and were trading at $48.52 per barrel. The SPDR S&P Oil & Gas Exploration & Production ETF (XOP) closed at $33.51 after falling 3.4% on May 4.
Metals
When it comes to commodities, metals tend to be stronger in the early hours. After falling for three consecutive trading days to a four-month low, copper prices opened May 5 higher and more stable in the early hours.
The sentiment in the copper market was dented by the weakness in China's economy. Because China is the largest consumer of copper, the current weakness in its economy affects copper's demand and price trends. At 6:35 AM EST on May 5, COMEX copper futures contracts for July 2017 delivery were trading at $2.52 per pound, a rise of ~0.38%. The PowerShares DB Base Metals ETF (DBB) rose 0.19%, while the SPDR S&P Metals & Mining ETF (XME) fell 1.8% on May 4.
Gold (GLD) and silver (SLW) were stable in the early hours of May 5 amid caution in the global markets ahead of the US non-farm payroll data release and the second round of the French presidential elections. Platinum and palladium were also stable in the early hours of May 5.