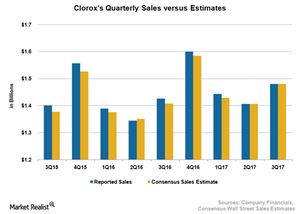 Clorox Outperforms Its Peers with Its Fiscal 3Q17 Sales
Strong volumes drive sales growth
The Clorox Company's (CLX) fiscal 3Q17 sales of $1.5 billion came in line with analysts' consensus estimate and rose 3.6% YoY (year-over-year), driven by increased volumes and higher pricing.
The company's volumes rose 9% in the United States (SPY), while its total volumes rose 7%, driven by strong performances in the Cleaning and Household segments. The company's continued focus on product innovations and effective marketing were the key drivers of its strong volume growth.
Article continues below advertisement
While most of its peers are struggling to lift their sales due to continued softness in their category growths, Clorox is witnessing strong category growth driven by new product launches, e-commerce initiatives, and efficient digital marketing. The company's e-commerce sales have risen ~30% in its fiscal year-to-date, while its digital marketing continues to generate strong returns on investment.
Outlook
Clorox's management reiterated its guidance on the sales front, projecting sales rise in the range of 3%–4% in fiscal 2017. This guidance includes a 2% benefit from its RenewLife acquisition and a negative currency impact of 1%–2%.
Clorox has a formidable portfolio of market-leading brands backed by efficient marketing. The company's products are expected to generate market-leading volumes supported by an innovation-driven product pipeline.
For instance, Clorox's management expects its fiscal 4Q17 sales to be positively impacted by new and innovative products such as Scentiva, Fuzion, Hidden Valley Simply Ranch, Brita Stream, and Kingsford Long-Burning Charcoal.
According to management, Clorox Scentiva, the company's new line of disinfecting sprays and wipes, is already generating healthy sales. Meanwhile, its new cleaner and disinfectant, Fuzion, is also running ahead of expectations.
In the next part of this series, we'll take a look at Clorox's segment-by-segment performance.