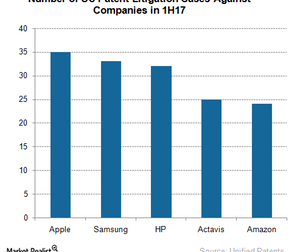 Chances of Qualcomm's Winning the Licensing Dispute with Apple
By Puja Tayal

Updated
Could Qualcomm succeed in getting US iPhone imports banned?
Apple (AAPL) has filed lawsuits against Qualcomm (QCOM) in China (FXI), the United States, and the United Kingdom. Amid antitrust investigations by the United States, Europe, and South Korea, Qualcomm could face difficulty appealing to the ITC (International Trade Commission) to ban US iPhone imports, according to Moor Insights & Strategy president Patrick Moorhead. Such an act could backfire on Qualcomm.
Even a report from ValueWalk stated that banning the iPhone may not be that easy. Back in 2013 and 2015, Apple tried to ban Samsung's (SSNLF) Smartphones, but the court rejected such an aggressive action.
Article continues below advertisement
A Bloomberg report stated that the IEEE (Institute of Electronic and Electrical Engineers) made changes to its policy in favor of Smartphone makers in February 2015. Under the revised policy, royalties were to be charged as a percentage of the component's price, not as a percentage of the end device's price. The policy also states that licensing companies shouldn't seek injunctions in the event of a dispute. The policy weakens Qualcomm's case against Apple.
What's the possibility of Qualcomm's winning the case?
While it looks like Apple's side is strong, there's another side to the story.
The US Federal Trade Commission's acting chair, Maureen K. Ohlhausen, explained in an interview with the American Bar Association that the FTC investigation wouldn't regulate prices. She's long believed that the market should run its course. This sentiment gives a ray of hope to the possibility of FTC's ruling in Qualcomm's favor.
A separate Bloomberg report cited the comments of Oblon, McClelland, Maier & Neustadt's patent lawyer, Alex Hadjis, who presented another case in which the ITC's ruling could result in Qualcomm's favor. Hadjis referred to some past ITC rulings showing that the agency has been friendly to SEP (standard essential patent) owners such as Qualcomm.
Bloomberg Intelligence analyst Matt Larson suggested that like Apple, Qualcomm can also appeal to courts in the United Kingdom, Germany, and China, which are faster than US courts. Larson highlighted a UK court's ruling in April 2017 on an unrelated matter, stating that the ruling allowed SEP owners to block companies that weren't willing to take on licensees for their technology.
In China, Qualcomm has strong ties with regulators and the courts. In 2015, the company settled an antitrust issue with Chinese regulators. In December 2016, a Chinese court decided in favor of Qualcomm over a royalty dispute with Meizu.
Next, let's see how Apple will be affected if Qualcomm wins the case.