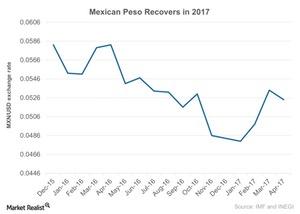 Can the Mexican Peso Weather the Trump Effect?
By Mary Sadler

Nov. 20 2020, Updated 3:08 p.m. ET
The peso's performance
The Mexican peso (DBMX) recently climbed in value after the Trump administration said that it would not exit NAFTA (North American Free Trade Agreement) altogether. But the peso has been in a downtrend since last year, continuously depreciating against the US dollar (UUP), particularly after Donald Trump's election win in November 2016.
Remember, Mexico (EWW) is highly dependent on its exports, and as the US (SPY) is its largest trading partner, it has a heavy impact on Mexican economic growth. Mexico's exports contributed about 35% of its GDP as of 2015.
As you can see in the chart, the Mexican peso fell about 17% against the US dollar (USDU) in 2016. However, the peso recovered some in 1Q17, with gains of about 8%. The peso was trading at ~19.18 per US dollar as of April 26, 2017.
Article continues below advertisement
Interest rate hikes since US election
The central bank of Mexico raised its benchmark interest rate by 25 basis points to 6.5% in March 2017. The central bank is expected to have more rate hikes to reduce or control, to some extent, its currency's slide. The short-term interest rate in Mexico is now at the highest level in the past decade.
Inflation is also surging and is expected to remain above the 3%–4% target rate in 2017. This rise in inflation has been mainly driven by the liberalization of gasoline prices and depreciation of Mexican peso (DMBX).
Why is the peso recovering?
Investors' confidence in the Trump administration's policy implementations took a hit after Trump and Republicans in the US Congress failed to bring about a new healthcare bill to fruition and after Trump's immigration reform defeat in US high courts. Now investors appear to have renewed doubts about Trump's prior trade threats.
To be sure, Trump has toned down his rhetoric, which helped boost the value of peso last week, and the Trump administration has now stated that it plans to stay in NAFTA, a free trade agreement between the US, Canada, and Mexico. Mexico's central bank has also taken steps to lift its depreciated currency.
President Trump had previously targeted Mexico with new proposed trade measures and emotional rhetoric, citing unfair trade practices. Trump's trade proposals had included renegotiating NAFTA and imposing stiff tariffs on Mexican imports.
Investors interested in peso trade can consider currency hedge ETFs to deal with the depreciating peso. The Deutsche X-Trackers MSCI Mexico Hedged Equity Fund (DBMX) and the iShares Currency Hedged MSCI Mexico (HEWW) are two such peso-hedged ETFs that track the Mexican market.
In the next and final part of this series, we'll examine the recent performance of Mexican equities.