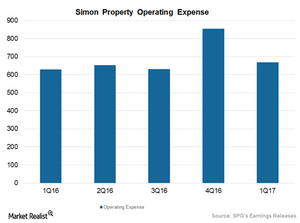 Can REITs Like Simon Property Group Survive the Fed's Interest Rate Hikes?
Interest rates move northward
The Federal Reserve raised its interest rates for the second time in the four-month period ended March 31, 2017. The widely anticipated move saw the benchmark federal funds rate rise 0.25% to a range of 0.75% to 1.0%.
Article continues below advertisement
More rate hikes in the cards?
The Fed indicated that it could implement two more rate hikes in 2017. The market speculates one of the rate hikes could occur in June, and the other one is expected to occur around December 2017. The FOMC[1. Federal Open Market Committee] plans to move close to its targeted rate of 2% with these phased increases.
How do rate hikes affect mall owners?
The hawkish interest rate environment has added to the woes of mall owners like Simon Property (SPG), as well as the REIT industry.
REITs like Simon Property Group (SPG) are sensitive to interest rates mainly because of the underlying business model of the companies in the sector. Unlike other companies whose operational funds mostly come from equity, REITs fund their working capital and acquisitions in the form of external debt as well as equity from private equity, institutional, and retail investors.
Rising interest rates could be a burden on debt-dependent REIT companies. However, it isn't possible for them to overcome this cost with higher revenues as retailers are facing soft market conditions.
Amid rising interest rates, investors have parked their investments in less-risky bonds that offer similar yields to that of REITs, triggering a sell-off in their stocks.
Further, volatility in rates could also impact mortgage REITs (or mREITs), which provide financing for real estate via the purchase of mortgage-backed securities and mortgages. Mortgage REITs utilize equity and debt capital to fund their investments. These REITs garner their profits from the margin between the cost of their operations and interest income.
However, it's also true that rising interest rates can be favorable for REITs when an economy is growing. Let's find out if the interest rate hike is a blessing in disguise for REITs like Simon Properties and its competitors like Equity Residential (EQR), GGP (GGP), and Macerich (MAC).
Investors looking for exposure to commercial real estate can invest in REIT ETFs. Simon Property Group and Public Storage (PSA) make up ~6.3% and 3.8%, respectively, of the Vanguard REIT ETF (VNQ).