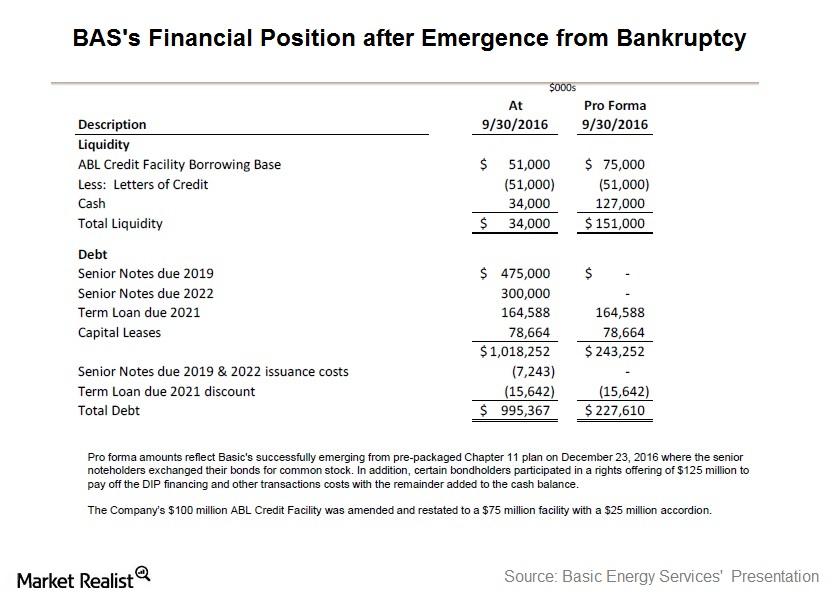 Can Basic Energy Grow after Emerging from Bankruptcy?
Basic Energy's bankruptcy case
On October 25, 2016, Basic Energy Services (BAS) filed for bankruptcy after a persistently weak performance in an energy market that was gripped by pricing weakness.
From 4Q14 to 2Q16, Basic Energy's revenue fell 70%. During this period, its earnings and cash from operations deteriorated significantly. For more information, read Market Realist's Which Oilfield Service Companies Are in Danger of Bankruptcy?
On December 23, 2016, Basic Energy Services completed its debt restructuring and recapitalization plan following its emergence from bankruptcy. Under this restructuring, all of its old common stock was canceled.
The company equitized over $800 million of unsecured debt, meaning that its senior noteholders exchanged their bonds for common stock. BAS also raised $125 million worth of new capital.
Article continues below advertisement
How did Basic Energy manage the downcycle?
Basic Energy managed the downcycle by doing the following:
matching capital expenditure to cash flow generation
maximizing rig utilization to protect market share
restructuring costs, including workforce restructuring
protecting liquidity
What are Basic Energy's plans for growth?
Basic Energy's management has the following plans for the company:
investment in equipment, as crude oil's price has now recovered partially, and the US rig count has picked up
expansion into new markets
maximization of utilization to increase market share
development of new service offerings
To achieve its targets after emerging from bankruptcy, BAS has lined up 74,000 hydraulic horse power (or HHP) capacity at a total cost of $28.5 million. It's already unstacked its remaining 35,000 of frac HHP, which it stacked in March 2017.
BAS has ordered two coil tubing units for its Niobrara operations, which are expected to be operational in 2Q17 or early 3Q17. BAS makes up 0.01% of the iShares Micro-Cap ETF (IWC).
In the following article, we'll discuss what affected Basic Energy's revenue and earnings in 1Q17.