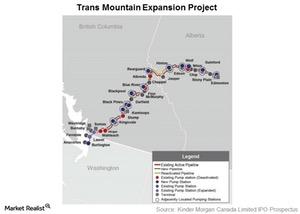 Why British Columbia's Election Impacts Kinder Morgan
New Democrats to form government
On Monday night, British Columbia's Green Party announced its highly anticipated decision to support the New Democratic Party or NDP in forming a government. The Green Party also mentioned that Kinder Morgan's (KMI) Trans Mountain pipeline expansion project was a "critical" issue for the party. Both the NDP and the Green Party staunchly oppose the project.
Article continues below advertisement
KMI's Canada IPO
Kinder Morgan's Canadian unit expects to close an IPO (initial public offering) of 102.9 million restricted voting shares by May 31, 2017. The company intends to raise 1.75 billion Canadian dollars through the offering to partially fund its Trans Mountain expansion project.
The way forward
It's important to note that the project already has the federal government's approval. However, any hurdles to the project may increase its costs or, at worse, force the company to drop it completely.
The project is backed by long-term shipper commitments for 80% of the capacity. Kinder Morgan expects the project to complete by the end of 2019.
As the above figure shows, the Trans Mountain pipeline is intended to carry oil from Alberta's rich oil sands reserves to Burnaby, British Columbia. Extracting oil from oil sands is believed to result in five times more greenhouse gas emissions compared to conventional sources. Moreover, the process is believed to affect boreal forests and require much more fresh water than conventional oil extraction.