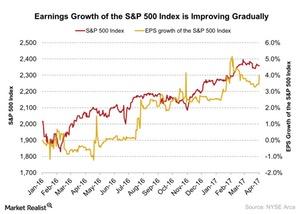 Mario Gabelli: Market Has 'No Margin of Safety'
Mario Gabelli in an interview with CNBC 
On Friday, April 28, 2017, in an interview on CNBC's Power Lunch, Mario Gabelli, CEO, founder, and chair of Gamco Investors, shared his views on the following:
market movement and ETF performance
crude oil
the infrastructure sector
various stock picks
Article continues below advertisement
Mario Gabelli on market
Mario Gabelli believes that the market has shown huge momentum in the past months. The US election (SPY) (SPX-INDEX) played a major role in the market rally. Various factors such as the possibility of deregulation, tax reform, and higher fiscal stimulus drove the market rally. However, Gabelli said, "The market itself to me has no margin of safety, but it's ok."
He added, "In May 2010, the market had a real crash, and that was a tiny sample of what can occur in the future because of the untested ETFs, the untested flash trading, the untested absence of a buffer known as specialists both upstairs and downstairs."
He also said that the earnings figures are improving gradually. The stronger earnings figures could change the market's direction. Many companies that are part of the S&P 500 Index (IWM) (QQQ) posted good earnings growth in 1Q17. Major technology stocks such as Google (GOOGL), Facebook (FB), and Amazon (AMZN) posted strong earnings growth, which could be an important driver for the stock market (VFINX) in the midst of inflated valuations.
In the next part of this series, we'll analyze Mario Gabelli's view on the infrastructure sector.