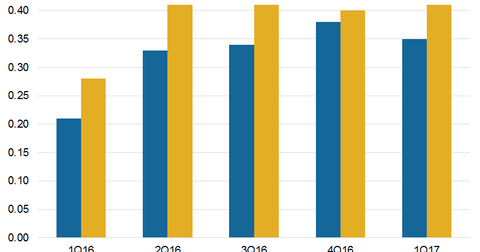 Behind Bank of America's Expected Performance
By Robert Karr

Updated
Stable performance
Bank of America (BAC) has maintained profitability over the past four quarters, backed by higher net interest income and trading revenues. The banking giant is expected to post EPS (earnings per share) of $0.47, as compared to $0.41 in the prior year as well as the previous quarter.
BAC is expected to post revenues of $22.3 billion, which would represent a growth of 7.2% on a YoY (year-over-year) basis. This growth should come on the back of higher net interest income, its loan book, and an expansion in its wealth management business. The bottom line is also positively impacted by a strong expense management.
Article continues below advertisement
Commercial banks (XLF) have seen a strong run-up over the past few quarters on the expectation of rising interest rates, further pushing net interest income and margins. Banks have also benefited from higher trading and wealth management business as investors shift toward riskier asset classes like equities and real estate.
In 1Q17, Bank of America posted total revenues of $22.2 billion, as compared to $20.8 billion in 1Q16, helped by higher interest as well as non-interest income.
The bank managed net interest of $11.1 billion, as compared to $10.5 billion in 1Q16, primarily due to higher interest rates. Its non-interest income rose 9% to $11.2 billion during the same period.
Macro changes
In the meantime, Bank of America could well benefit from Trump's proposed policies of repealing Dodd-Frank, deregulating the banking industry, and favoring domestic manufacturing. The bank could thus see an expansion of its domestic business, its loan book, and its product line. Notably, major competitors J.P. Morgan (JPM), Wells Fargo (WFC), and Citigroup (C) have also witnessed higher interest income in recent quarters.
In this series, we'll examine Bank of America's divisions, outlook, macro factors, expected growth, dividends, valuations, and analyst ratings. Continue to the next part (below) for more analysis.