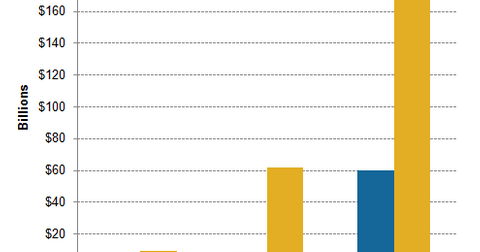 Behind AMD's Stock Price Volatility
By Puja Tayal

Updated
AMD's stock outperforms market
In this series, we've seen that fiscal 2016 was a turnaround year for Advanced Micro Devices (AMD) investors. The stock rose by over 300% after the company reported positive free cash flow, raising hopes among investors that the company may return to profits in fiscal 2017.
However, a forecast of moderate growth and gross margin contraction in fiscal 2Q17 raised skepticism among investors. Many booked their profit, resulting in the stock falling 24% in just one day. Some analysts believe that the stock sell-off is emotionally driven, as the company's fundamentals are improving. The company will release more insights on its fundamentals at its Financial Analyst Day on May 16, 2017.
Article continues below advertisement
AMD's volatility
Based on AMD's stock price movement in the last 12 months, it's clear that the stock is highly volatile and sensitive to any happenings. Whereas it has a beta of 2.52, Intel (INTC) and NVIDIA (NVDA) have betas of 0.41 and 1.50, respectively. Beta is a measure of volatility, with a beta lower than one being less volatile and a beta higher than one being more volatile.
Institutional investors
At present, institutional investors own 54.5% of AMD's total outstanding shares. According to AMD's SEC (Securities and Exchange Commission) filings, several institutional investors changed their position in the company at the end of December 2016:
216 institutional investors increased their position in the company by 95 million shares
166 institutional investors decreased their position by 91 million shares
103 new institutional investors purchased 39.6 million shares
63 institutional investors sold their positions, selling a total of 27.4 million shares
Market capitalization
AMD's market capitalization has eroded by over 30% in the last two weeks. On May 5, 2017, AMD had a market capitalization of $9.6 billion, which is 1.9 times its projected fiscal 2017 revenue of $4.8 billion. AMD's market capitalization-to-revenue ratio is lower than Intel's ratio of 2.8x and NVIDIA's ratio of 7.6x, indicating that investors are more optimistic about Intel and NVIDIA's revenue growth potential. Next, we'll look at AMD's stock price movement.