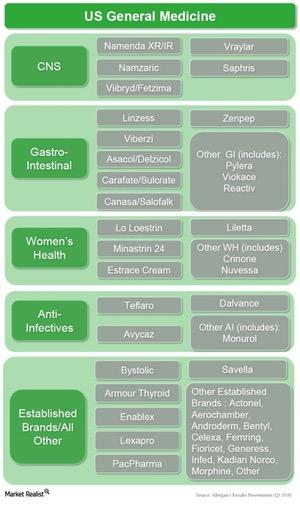 Behind Allergan's US General Medicines Segment in 1Q17
By Mike Benson

May. 11 2017, Updated 7:37 a.m. ET
The US General Medicines segment
Allergan's (AGN) US General Medicine segment includes the company's central nervous system, gastroenterology, women's health, anti-infectives, and established brands franchises. In 1Q17, revenues from this segment fell 7.4% to $1.35 billion, as compared to $1.45 billion in 1Q16.
This decline in revenues was due to lower sales of Asacol HD and Namenda XR-IR, partially offset by higher sales of Linzess, Lo Loestrin, Viberzi, and Vraylar.
Article continues below advertisement
CNS and gastroenterology in 1Q17
Allergen's CNS (central nervous system)) franchise ranks number one in Alzheimer's products. This franchise reported a revenue fall 3.9% to $309.1 million, however, in 1Q17, driven by a decline in sales of Namenda XR, Namenda IR, Viibrid, and Saphris.
The GI (gastroenterology) franchise reported a decline in revenues by 4% to $387.5 million in 1Q17, as compared to $403.6 million in 1Q16. Notably, gastroenterology reported growth in revenues from all products except Asacol-Delzicol.
Women's health and anti-invectives in 1Q17
Allergan's women health franchise leads in US markets, though its revenues fell ~7.2% to $244.7 million in 1Q17, as compared to $263.7 million in 1Q16. Revenues declined due to lower sales of Minastrin 24 and Estrace Cream, partially offset by growth in revenues from Lo Loestrin, Liletta, and other women's health products.
The anti-infectives franchise's revenues rose 8.2% to $55.7 million in 1Q17. This growth was driven by all products except Teflaro.
Diversified brands in 1Q17
Allergen's diversified brand revenues fell more than 27.3% to $299.0 million in 1Q17 due to lower sales of Enablex, Lexapro, Bystolic, Armour Thyroid, PacPharma products, and other established brands. This fall was partially offset by Savella.
To divest risk, investors can consider ETFs like the iShares US Healthcare ETF (IYH), which has ~3.2% of its total assets in Allergan. The iShares US Healthcare ETF also has 6.2% of its total assets in Merck (MRK), 2.1% in Biogen (BIIB), and 3.0% in Gilead Sciences (GILD).