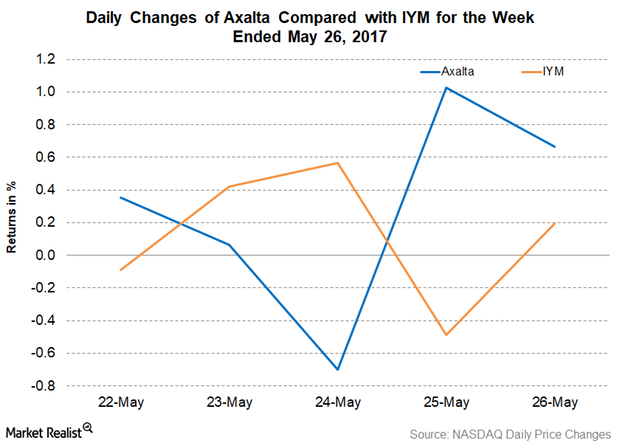 Axalta to Acquire Spencer Coatings Group
Effects of acquiring Spencer Coatings
On May 22, 2017, Axalta Coating Systems (AXTA) announced that it has signed an agreement to acquire Spencer Coatings Group, a UK-based coatings company. Spencer Coatings Group, established in 1909, specializes in manufacturing high-performance industrial coatings, catering to heavy-duty equipment, general industrial, oil and gas, and glass coating segments.
The acquisition will complement AXTA's industrial portfolio and help increase its market share and spread geographically. AXTA didn't disclose the financial terms of the agreement.
Article continues below advertisement
Michael Cash, Axalta's senior vice president and president of Industrial Coatings, said, "We are very proud to welcome the Spencer Coatings Group into the Axalta family. Spencer's industry-leading product technologies fit very well within Axalta's current industrial portfolio. With the acquisition of Spencer, we will have the opportunity to take some incredibly innovative products and expand into new geographies, as well as provide our combined industrial customers with additional product technologies."
Axalta's stock performance last week
On May 26, 2017, Axalta closed at $31.74, rising 1.4% for the week. The iShares US Basic Materials (IYM), which holds 1.2% in AXTA as of May 26, 2017, underperformed AXTA, rising 0.60% for the week and closing at $87.76.
AXTA's peers Sherwin-Williams (SHW), PPG Industries (PPG), and RPM International (RPM) rose 0.80%, 0.50%, and 1.5%, respectively. AXTA stock was trading 4.4% above its 100-day moving average of $30.40, indicating an upward trend.
Analysts expect AXTA's 12-month target price to be $34, implying a potential return of 7.1% over its May 26, 2017, closing price. Year-to-date, the stock has returned 16.7%. AXTA's 52-week low is $24.27, and its 52-week high is $33.06.
The 14-day RSI (relative strength index) of 56 indicates that the stock is neither overbought nor oversold. RSI levels of 70 and above indicate that a stock is overbought, while RSI levels of 30 and below indicate that a stock is oversold.