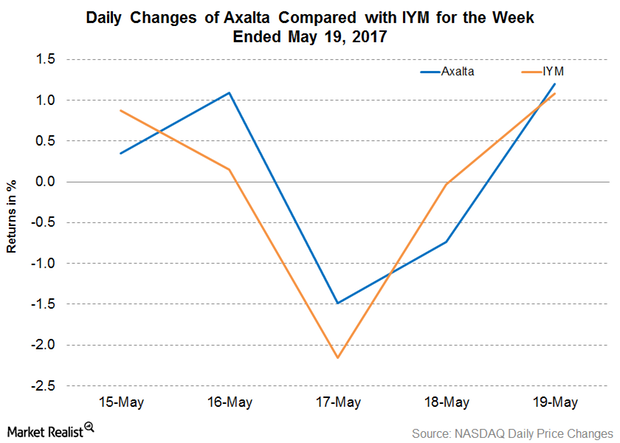 Axalta Renews Its 2 Refinish Brands with BMW
Axalta renews contract with BMW
On May 17, 2017, Axalta Coating Systems (AXTA) received approval for the renewal of two of its premium refinish brands—Spies Hecker and Standox—used for the repair of BMW passenger cars. This is applicable across 40 countries of the BMW Group network.
AXTA's refinish business recorded revenue of $389.0 million in 1Q17, a growth of 2.6% over the previous year. The renewal of the contract could boost the revenue for its refinish business. However, AXTA did not disclose the financial aspects of the renewal.
Article continues below advertisement
Axalta's stock performance last week
On May 19, 2017, Axalta closed at $31.30, rising 0.40% for the week. The iShares US Basic Materials (IYM), which holds 1.1% in AXTA as of May 19, 2017, underperformed AXTA with a fall of 0.10% for the week and closed at $87.76.
AXTA's peers Sherwin-Williams (SHW) and PPG Industries (PPG) fell 0.50% and 0.40%, respectively, while RPM International (RPM) rose 2.3%. AXTA stock was trading 3.7% above its 100-day moving average of $30.19, indicating an upward trend.
Analysts expect AXTA's 12-month target price to be $34, implying a potential return of 8.6% over its May 15, 2017, closing price. Year-to-date, the stock has returned 15.1%. AXTA's 52-week low is $24.27, and its 52-week high is $33.06.
The 14-day RSI (relative strength index) of 50 indicates that the stock is neither overbought nor oversold. RSI levels of 70 and above indicate that a stock is overbought, while RSI levels of 30 and below indicate that a stock is oversold.