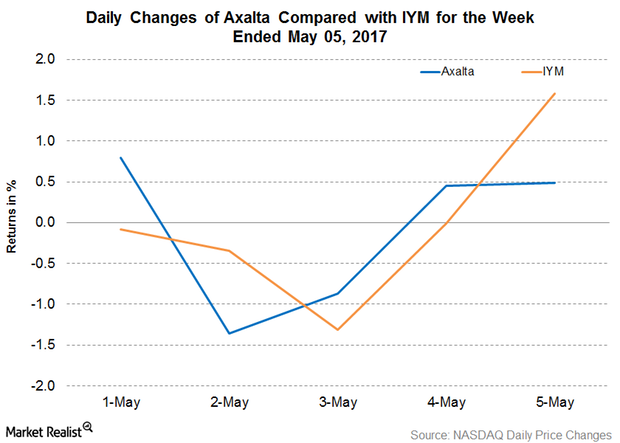 Axalta Expands with New Headquarters in India
Axalta expands
Axalta (AXTA) opened a new headquarters in Guragram, India. The new facility provides various services to the company's operations in the region and around the world. Axalta's expansion plan in India was announced in 2015. Axalta sees this expansion in the region as an opportunity to grow the demand for its refinish products. India's auto industry is expected to rise at a CAGR (compound annual growth rate) of 7%.
Article continues below advertisement
Sobers Sethi, Axalta's vice president and president of emerging markets, said, "As a key emerging market, India continues to be a focal point in Axalta's growth plans in the Asia-Pacific region. With our new headquarters, Axalta has taken the next step in establishing itself as a leading coatings supplier in India to better meet the future requirements of its customers."
Axalta's stock performance last week
On May 5, 2017, Axalta closed at $31.21 and fell 0.5% for the week. The iShares US Basic Materials (IYM), which holds 1.1% in AXTA as of May 5, 2017, outperformed AXTA with a decline of 0.2% for the week and closed at $89.13.
AXTA's peers Sherwin-Williams (SHW), PPG Industries (PPG), and RPM International (RPM) rose 1.1%, 0.7%, and 0.1%, respectively. However, despite a decline in the stock price, AXTA stock traded 4.9% above its 100-day moving average of $29.74, indicating an upward trend.
Analysts expect AXTA's 12-month target price to be $33.94, implying a potential return of 8.6% over the May 5 closing price. Year-to-date, the stock has returned 14.7%. AXTA's 52-week low is $24.27, and its 52-week high is $33.06.
The 14-day RSI (relative strength index) of 48 indicates that the stock is neither overbought nor oversold. An RSI of 70 and above indicates that a stock is overbought, while an RSI of 30 and below indicates that a stock is oversold.