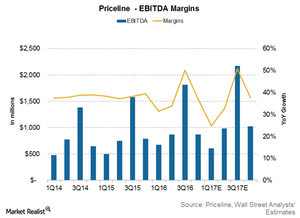 Assessing Whether Priceline's Margins Can Expand in 1Q17
Analyst estimates
For 1Q17, analysts estimate that Priceline's (PCLN) EBITDA[1. earnings before interest, tax, depreciation, and amortization] could decline 10.2% to $607.1 million. This metric is expected to grow, posting growth of 13.3% to $982.3 million in 2Q17, growth of 14.1% to $2.2 billion in 3Q17, and growth of 17.8% to $1.0 billion in 4Q17. For fiscal 2017, its EBITDA is expected to grow 15.6% YoY (year-over-year) to $4.8 billion.
This growth could be due to the growth in gross bookings and revenues, which we discussed in the previous article. Priceline's EBITDA margin is expected to remain stable at 38.4% in 2016 compared to 38.5% in 2015.
Expedia's (EXPE) EBITDA margin is also expected to remain stable at 18.3% in 2017. TripAdvisor's (TRIP) EBITDA margin is expected to fall to 20.4%, and Ctrip's (CTRP) margin is expected to increase to 10.3% in 2017.
Article continues below advertisement
Advertising impacts
For 2016, Priceline's performance advertising costs rose 27.1% year-over-year. Brand advertising costs have increased 8.0% YoY, and its sales and marketing expenses have increased 23.2% year-over-year.
Priceline still needs to spend heavily on advertising to attract customers. However, the good news is that Priceline has ended its ad war with Expedia (EXPE), as both players realized that the ad efficiency was poor and no one was profiting except Google (GOOGL).
Outlook
Priceline (PCLN) expects its 1Q17 EBITDA to be ~$550 million–$580 million. It also expects its gross profit to increase 9.5%–14.5% (11%–16% on a constant currency basis).
Its GAAP[1. generally accepted accounting principles] earnings per share (or EPS) are expected to increase to $7.50–$7.90. Its non-GAAP earnings per share are expected to increase to $8.25–$8.65.
To avoid the company-specific risk of investing in a particular stock, investors can gain exposure to Priceline by investing in the First Trust NASDAQ-100 Ex-Technology Sector Index ETF (QQXT). QQXT invests 1.6% of its holdings in the stock.