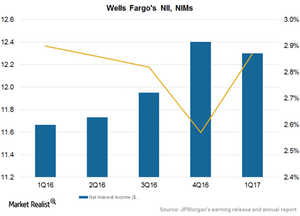 Analyzing Wells Fargo's Interest and Non-Interest Income
By Robert Karr

Aug. 18 2020, Updated 6:15 a.m. ET
Rates help interest income
Commercial banks (XLF) have seen their interest income and margins rise over the past few quarters due to rate hikes. They have seen credit offtake due to positive macro fundamentals. Wells Fargo (WFC) saw net interest income of $12.3 billion in 1Q17—compared to $11.7 billion in 1Q16. The bank has seen subdued growth for balances in trading assets and mortgage held-for-sale partially offset by higher investment securities and rising interest rates. The bank has been garnering higher net interest margins of 2.9% in recent quarters. The trend is expected to continue in upcoming quarters as lower mortgage assets and trading assets can be offset by rising interest rates.
Article continues below advertisement
Non-interest income
Wells Fargo garners non-interest income from trading activity, wealth management, and mortgage-related income. The bank's net interest income stood at $9.7 billion—the first rise sequentially over the past five quarters. The bank garners a major portion of its non-interest income from investment fees of $2.32 billion, service charges on deposits of $1.31 billion, and mortgage banking fees of $1.23 billion. It gets the rest of its non-interest income from trust services, card fees, investment banking, and net gains on various securities and holdings. In 2Q17, the bank is expected to see higher investment fees, subdued growth in equity holdings and mortgage banking, and higher card fees.
Wells Fargo is competing with JPMorgan Chase (JPM) and Visa (V) for its card business, BlackRock (BLK) and Blackstone (BX) in asset management, and other commercial banks for mortgage and lending businesses.