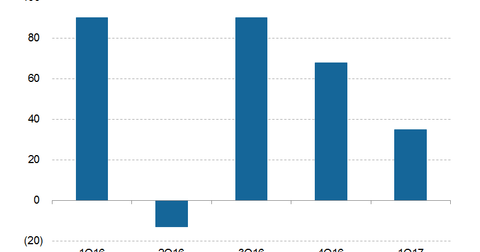 Analyzing Trends in Verizon's FiOS Internet Net Additions
By Ambrish Shah

Updated
Verizon's FiOS Internet net additions in 1Q17
In the previous article, we learned about some pay-TV market trends affecting Verizon (VZ). The telecommunications company is managing the challenge of the pay-TV space by focusing on its Internet offering in FiOS.
In 1Q17, Verizon added 35,000 FiOS Internet subscribers, compared to 90,000 in 1Q16. This fall in FiOS Internet subscriber net additions was due to competitive pressures from cable companies such as Comcast (CMCSA) and Charter (CHTR), which managed to add the most Internet subscribers. Net gains in FiOS Internet connections were offset by falls in DSL-based (domain-specific language) Internet connections.
Article continues below advertisement
Verizon's FiOS gigabit connection
Verizon continues to innovate its FiOS platform by utilizing its fiber assets. In January 2017, Verizon introduced Instant Internet, a new service that offers both upload and download speeds of 750 Mbps (megabits per second). However, according to the service provider's reports, subscribers consistently experienced speeds well above the advertised 750 Mbps, motivating Verizon to align its services with new firmware and diagnostic tools and boosting its overall performance.
According to a FierceTelecom report on April 24, 2017, "Verizon has joined the ranks of AT&T and Google Fiber with its own low-priced Gbps Fios offering called Fios Gigabit Connection. However, it's not quite a 1 Gbps service. Fios Gigabit Connection provides 940/880 Mbps speeds."
According to the same report, "Fios Gigabit Connection is currently available to over 8 million homes in parts of the New York, New Jersey, Philadelphia, Richmond, Virginia, Hampton Roads, Virginia, Boston, Providence, Rhode Island, and Washington, D.C., areas."
Verizon's FiOS Internet penetration fell 10 basis points to reach 40.3% in 1Q17, compared to 40.4% in 4Q16. Its penetration was almost flat compared to the figure it reported in 1Q16. Verizon's number of FiOS Internet subscribers rose ~3.3% on a year-over-year basis to ~5.7 million at the end of 1Q17.