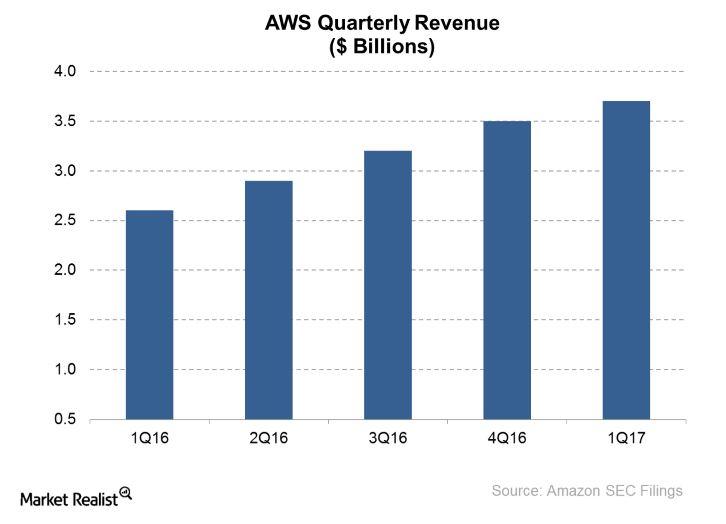 Amazon's AWS Revenues Rose 43% to ~$3.7 Billion
Amazon as a target
As the dominant e-commerce company, Amazon (AMZN) is targeted by competitors like Walmart (WMT) and Sears (SHLD). As the leading cloud computing provider, Amazon is also seeing growing threats from Microsoft (MSFT), Oracle (ORCL), and Alphabet's (GOOGL) Google.
To cope with the increasing competition, Amazon must keep its wheels spinning faster wherever it has a presence. Its 1Q17 results offer a hint of what's happening.
Article continues below advertisement
Cloud business exceeds expectations, but its growth slows
Amazon's cloud business, Amazon Web Services (or AWS), is usually closely watched given its significant contribution to the company's bottom line. AWS's revenues increased 43% to $3.66 billion, topping its revenues of $3.65 billion that analysts expected.
However, AWS's growth is slowing. The business grew 47% in 4Q16, 55% in 3Q16, and 58% in 2Q16.
Prime drives subscription revenues up 49%
To keep its massive e-commerce wheel spinning faster, Amazon uses a mix of strategies to encourage consumers to shop on its site. One of those strategies is the Prime membership program, which aims to create a loyal base of shoppers by offering free shipping on select items and other benefits.
Prime's revenues allow Amazon to pour billions of dollars into producing original content for its streaming video service. Prime helped Amazon register 49% sales growth to $1.9 billion in its Subscription segment.
Amazon increases its advertising clout
Amazon's Advertising segment also impressed as revenues in the segment, which includes marketing services, grew 56% to $850 million.
Overall, Amazon posted EPS (earnings per share) of $1.48 on revenues of $35.7 billion.