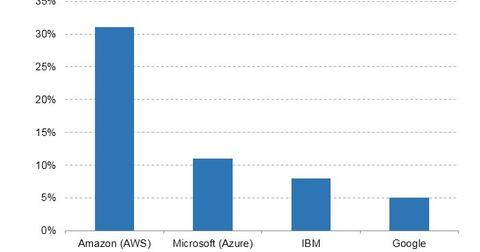 How Alphabet Views the Cloud Computing Price Wars
By Neha Gupta

Updated
Google to focus on touting cloud value
Alphabet's (GOOGL) Google seems to have changed its approach to its competition in the cloud computing market. The company says it doesn't intend to compete with Amazon (AMZN), Microsoft (MSFT), or Oracle (ORCL) in the cloud computing price wars to attract customers, according to a CNBC report.
Instead of engaging in price competition, Google wants to compete on value. For example, the company wants to pitch to customers that its Google Cloud Platform is the best option for data analytics and artificial intelligence services.
Article continues below advertisement
If Alphabet isn't going to try to gain an edge against the competition by pricing its cloud services competitively, then that would be a stark reversal from what the company did last year. In 2016, Amazon, Microsoft, and Google cut prices of some of their cloud services in a bid to attract new customers or in the case of the large providers, to defend their market share
Cloud computing market share
AWS is the world's largest cloud computing platform, controlling an ~31.0% share of the global market, according to Synergy Research Group. Microsoft holds a distant second place with ~11.0% of the market share. IBM (IBM) and Google appear to be underdogs with market shares of ~8.0% and ~5.0%, respectively.
Overtaking AWS in five years
Although Google is currently subdued by Amazon in terms of the cloud computing market share, the company believes its Google Cloud Platform could overtake AWS as the largest cloud provider by 2022. Google's hopes of becoming the cloud computing king in five years hinge on a research finding by Deutsche Bank showing that only 5.0% of cloud-eligible workloads have migrated to the cloud.
Revenues in Alphabet's segment that reports cloud sales grew 49% to ~$3.1 billion in 1Q17, which compares with AWS revenues of $3.6 billion during the same period.