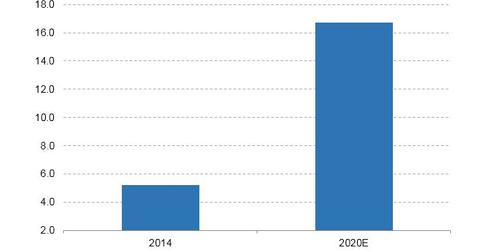 Alphabet Embarking on YouTube Cleanup
By Neha Gupta

Updated
Delaying ads on new views
In addition to trying to take control of YouTube content by taking charge of producing videos for the site, Alphabet (GOOGL) is also undertaking some forms of platform cleanup. Before it released its 1Q17 results, Google had announced a variety of YouTube changes, including a measure to delay displaying advertisements on new YouTube channels. The tweaks are also designed to stem content piracy.
Article continues below advertisement
10,000 views
As part of the measures to push back against sharing inappropriate content on YouTube, Google plans to prevent publishers from using its advertising program until their videos or channels have accumulated at least 10,000 views. Publishers use Google's advertising program to generate revenues against the content they share on YouTube, saving them the burden of searching for advertisers themselves.
According to research firm eMarketer, spending on Internet video advertising in the US (SPY) could grow to $16.7 billion by 2020, sharply up from $5.2 billion in 2014.
Tightening YouTube policing
By increasing its policing of YouTube and bringing more high-quality content to the platform, Google is hoping to strengthen its position in the digital video industry. For example, allowing ample time to review videos before displaying ads next to them would allow Google to prevent ads from being displayed next to videos promoting violence or extremist views.
Companies such as Johnson & Johnson (JNJ), Verizon (VZ), and AT&T (T) suspended their advertisements on YouTube after it emerged that those ads were showing next to inappropriate content.
Google is also hoping that the YouTube cleanup would put it in a better position to take advantage of the trend in which marketers are increasingly spending more money on Internet video ads.