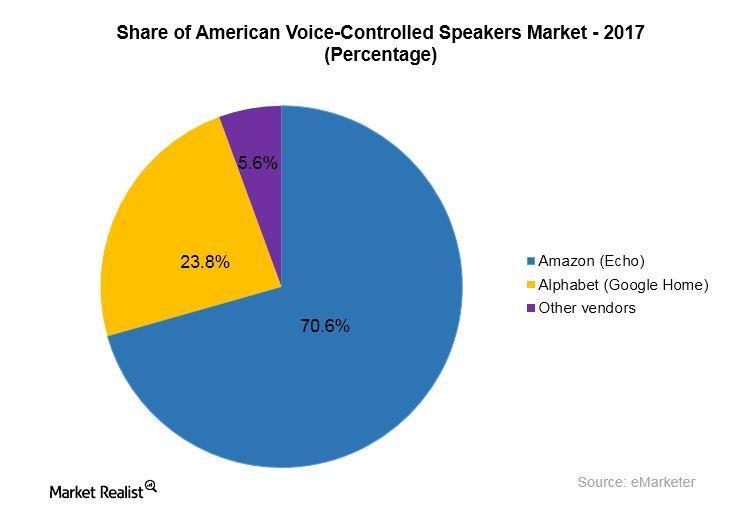 Alphabet Chases Amazon in the Smart Speaker Market
By Neha Gupta

Nov. 20 2020, Updated 3:31 p.m. ET
The leader leads by several miles
Alphabet (GOOGL) and Amazon (AMZN) don't break out sales of their voice-enabled speakers. They have never done it, they didn't do it in 1Q17, and they seem to have no plans of doing it in the near future.
However, independent surveys have shown that Amazon not only dominates the smart speaker market, but it also leads its closest competitor, Alphabet, by several miles.
Amazon's voice-controlled speaker, Amazon Echo, is powered by Amazon's digital assistant software, Alexa. Nearly two years after Amazon introduced Echo, Alphabet sought to challenge it with its own Google Home device. 
Both devices are presented as a hub for automated homes where they can be used to control lights, shop online, and operate other appliances.
Article continues below advertisement
Amazon leading with 70.6% share of market
Although Alphabet sells Google Home at a discount compared to Echo and updates the device with new skills to make it competitive, it has a long way to catch up to Amazon. 
According to eMarketer, 35.6 million Americans could interact with a voice-controlled device such as Google Home or Echo at least once a month this year. Amazon is expected to have a 70.6% share of that market compared to 23.8% for Google. The rest of the market is held by smaller vendors such as Harman Kardon, LG, and Lenovo.
New entrants to stir the market
Alphabet's dreams of catching up with Amazon in the smart speaker device market could be complicated, as the market is expected to see new entrants. Apple (AAPL) and Microsoft (MSFT) could soon stir the market with their versions of Echo. 
Facebook (FB), keen to diversify its revenue streams beyond advertising, could also be attracted to the smart speaker market. The social media giant has been refining its digital assistant software, called M.