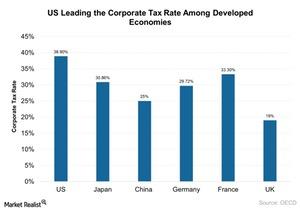 Adena Friedman: Corporate Tax Reforms to Improve Economic Activity
Tax reforms in the US in 2017
Currently, the passage of tax reform is playing a significant role in Trump's agenda in 2017 after some of the setbacks in their reforms. The tax reforms as proposed by the new administration are significant and could have a major impact on investments and overall economic growth.
According to Adena Friedman, tax cuts at the small and medium enterprise level could boost investment sentiment and increase job creation. According to a policy brief of the Organisation for Economic Co-operation and Development (or OECD), the small and medium-sized enterprises (or SMEs) account for about 95% of firms and 60%–70% of employment in OECD economies.
Currently, the US has the highest tax rate among the developed economies affecting its investment sentiment. Let's look at the chart below, which shows the corporate tax in the US as compared to other developed countries.
Article continues below advertisement
Corporate tax reforms
President Trump plans to reduce the corporate tax rate to 15% to bring the US tax system on a similar level as other developed nations. As we can see in the chart above, the US currently has one of the highest corporate tax rates in the developed world. The tax cuts at the domestic level would encourage companies to repatriate the profit booked abroad to avoid taxes.
However, there is a mixed response to tax reforms by industry experts, as some expect tax reforms will take years to implement. Many also believe that the tax cut plan would impact the already increasing US debt.
Adena Friedman supported the tax reforms. She said, "We definitely are a supporter of lowering corporate income tax and managing through the reprehension of cash for companies because we do think that'll give them more ammunition to grow their businesses and expand what they do."
Reforms to improve capital markets
Friedman further discussed other factors like lowering the corporate tax rate to help small businesses. She thinks the government plays an important role in making the capital markets more conducive for investors through a host of reforms:
deductibility of dividends to avoid double taxation
lower tax on investment assets
According to Friedman, the tax cuts across sections like personal income, capital gains, and corporate taxes including at small and medium enterprise levels will improve economic activity. The improved economic activity is likely to boost the earnings of corporates, thereby benefiting capital markets (QQQ) (IWF).
The tax cut in the statutory rate from 35% to 15% is expected to increase the S&P 500 earnings by 16%, according to Goldman Sachs' estimates. Some of the large-cap companies expected to repatriate huge profits if corporate taxes are reduced include Microsoft (MSFT), Cisco (CSCO), Pfizer (PFE), and Caterpillar (CAT).
For more information on tax reforms, check out Market Realist's How the Economy and Markets Could React to Tax Reforms.