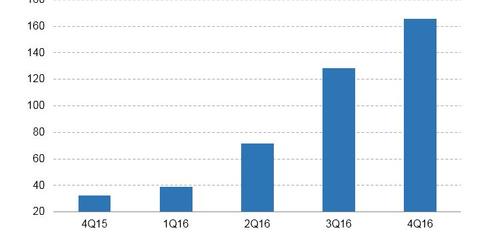 A Look at Potential Suitors for Snap
By Neha Gupta

Updated
Frustrations building for Snap
An April 17, 2017, report in The Information suggested that Snap (SNAP) may want to sell itself soon to stave off growing competitive pressures. The report stated that with Facebook (FB) determined to duplicate features that helped set Snapchat apart, Snap's current social media course seems untenable.
Although Snap describes itself as a camera company, advertising on its social media platform is its primary source of revenues—just as it is to Facebook and Twitter (TWTR).
Article continues below advertisement
Feature duplication
Snapchat's distinctive features include disappearing photos and a tool that allows users to string stories of images or videos that disappear after some time. These features helped make Snapchat popular with Millennials.
However, Facebook (FB) has been copying those features and adding them to its apps such as Instagram and WhatsApp. As a result, Facebook is diluting the appeal of Snapchat and reducing the threat of Snapchat stealing its subscriber base.
Given Facebook's deep pockets and massive user base—1.9 billion monthly subscribers at the end of 2016—Snap has limited room to fight back. If it can't diversify its business to avoid more direct competition with Facebook, then it would have to put itself on the auction block, according to Tom Dotan's report in The Information.
Potential suitors for Snap
If Snap (SNAP) offers itself for sale, Walt Disney (DIS) is considered the most likely suitor. Disney is among the media companies contributing content on Snapchat. As a result, these companies already have a relationship that could be mutually beneficial.
Plus, Disney could tap into Snapchat's base of millions of young users to expand the market for its movies and other media content. Twitter is said to be exploring a way to let people watch television directly from its app, and Disney could introduce a similar service on Snapchat if it owns the platform.
If Snap chooses to explore new markets for media content, it could also appeal to traditional media companies such as Time Warner (TWX) and Discovery Communications (DISCA).