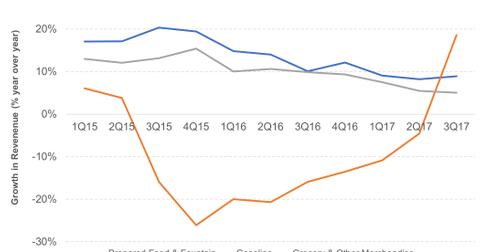 A Look at Casey's Top-Line Performance ahead of 4Q17 Results
By Sonya Bells

Updated
Could Casey's sales rise nearly 19.0% in 4Q17?
As we've already seen, Casey's General Stores (CASY) will be reporting its fourth-quarter 2017 results on June 6, 2017. The company could likely see a YoY (year-over-year) rise of 18.8% in 4Q17 sales, which are predicted to come in at ~$1.9 billion.
Article continues below advertisement
Reviewing Casey's year-to-date top-line performance
In the first nine months of 2017, Casey's total revenue rose 2.2% YoY. It reported strong growth in its prepared food and grocery sales. Those gains were partially offset by a fall in its gasoline business.
The prepared food and fountain category along with its grocery and merchandise segment generated about 41.0% of the company's total revenue in the first nine months of fiscal 2017. That compares to an average of 35.0% between fiscal 2014 and fiscal 2016. These two categories have been the company's key revenue drivers in times when fuel prices were volatile.
Prepared food and grocery sales growth has slowed down
Casey's prepared food and fountain sales rose 8.7% YoY, while grocery and merchandise sales rose 6.1% during the first nine months of fiscal 2017. That was, however, lower than the average quarterly growth of 15.6% and 11.7%, respectively, for the two segments between fiscal 2015 and fiscal 2016. In fact, the company missed its annual goals for same-store sales and margins for both segments in nearly all three quarters, driving the company's top line misses.
Gasoline sales, on the other hand, contracted 0.80% during the first nine months, although the third quarter recorded an 18.6% rise in revenue.
Comparing LTM growth with peers
Casey's top line has expanded 0.70% over the last 12 months (or LTM). Its convenience store peer CST Brands (CST) produced a sales growth of 3.5%. Murphy USA (MUSA), which primarily operates fuel stations in the close vicinity of Walmart (WMT), reported a 1.7% fall in LTM sales.
Investors looking for exposure to Casey's can invest in the ProShares S&P MidCap 400 Dividend Aristocrats (REGL), which has around 2.2% of its holdings invested in the company.