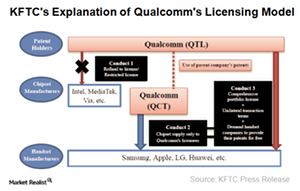 A Look at Apple's and Qualcomm's Argument over Licensing
By Puja Tayal

Updated
Apple's side of the story
Apple (AAPL) has acknowledged that Qualcomm (QCOM) should be paid for its SEP (standard essential patent), but it argues that the latter is charging an unreasonably high price for the license.
According to Apple's argument, Qualcomm is charging 5% of the purchase price of every iPhone, which means Qualcomm gets a $30 royalty for every $600 iPhone sold.
Moreover, Apple stated that Qualcomm only supplies chips to those who license its technology. So, Apple pays Qualcomm twice: first to license the patents and then to buy its modem chips. The handset maker accused Qualcomm of misusing its SEP to illegally help its chipset business. A similar accusation was made by the KFTC (Korea Fair Trade Commission) (EWY), which imposed a fine of $853 million on Qualcomm.
Apple also stated that it's been trying to negotiate fair licensing terms with Qualcomm for over the last five years but that the chip supplier hasn't cooperated.
Article continues below advertisement
Qualcomm's side of the argument
In response to Apple's arguments, Qualcomm stated that it entered into licensing agreements with most of Apple's contract manufacturers even before they manufactured chips for Apple. Qualcomm's deals with these suppliers are valid for the long term and have been negotiated between it and these manufacturers.
According to Qualcomm, Apple is interfering with its contracts with contract manufacturers by stopping payments to those manufacturers who make iPhones and pay Qualcomm licensing fees. As per the licensing agreement, these manufacturers are under an obligation to pay Qualcomm royalties.
On its fiscal 2Q17 earnings call, Qualcomm's president, Derek Aberle, stated that the chip supplier had made an offer to Apple to directly license its standard essential patents for a fee that was fully compliant with its FRAND (fair, reasonable, and non-discriminatory) commitments. However, Apple refused to negotiate.
A report by Komando stated that Qualcomm was also not happy because Apple hadn't used the full potential of its modem in the iPhone 7 in order to maintain a similar performance to iPhones featuring Intel's (INTC) modem.
Samsung and Intel versus Qualcomm 
However, Apple is fighting hard to force Qualcomm to cut its licensing fees. Recently, Qualcomm's largest customer, Samsung (SSNLF), and its largest rival, Intel, filed arguments with the US FTC (Federal Trade Commission) against the modem chip supplier, according to a Bloomberg report. They argued that Qualcomm's monopolistic licensing practices were stopping them from competing fairly in the modem market.
In its complaint, Intel wrote, "Qualcomm has maintained an interlocking web of abusive patent and commercial practices that subverts competition on the merits." Samsung argued that Qualcomm refused to give it license to sell Exynos chipsets to third-party entities.
If Apple wins its case, it will have a significant impact on Qualcomm. We'll look into this possibility in the next article.