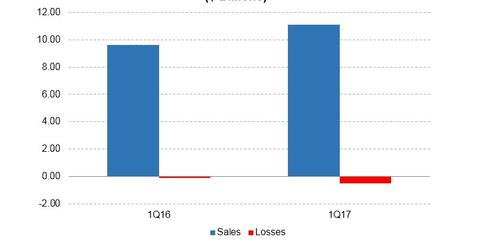 A Look at Amazon's International Business
By Neha Gupta

Updated
A $100.0 billion online retail industry
We've learned about Amazon's (AMZN) spending $5.0 billion to gain market share in India, one of its important international bets. 
Though estimates vary widely, the consensus is that the Indian e-commerce industry (QQQ) is on an upward trajectory. Some estimate that the industry will be worth $100.0 billion by 2020, up from ~$30.0 billion in 2016.
Amazon is also making inroads in other emerging markets (EEM) in Asia, the Middle East, and South America. For example, it's acquiring Souq.com to give it a head start in the Middle East, a region it doesn't have a presence in and one that would have required both a huge investment and a long wait to build a business in from scratch.
Amazon also recently introduced its Prime membership program in Mexico, a sign that the company is trying to build a base of more loyal customers in the country.
Article continues below advertisement
International losses quadruple
But what's Amazon getting from its international operations? Little for now. In fact, it's making losses. It reported international sales of $11.1 billion and operating income of -$841.0 million in 1Q17. Its international sales rose ~$1.5 billion annually, and its losses almost quadrupled.
Optimistic comments
Though Amazon is facing tough competition in India, especially from local startups backed by multinationals such as Walmart (WMT) and Alibaba (BABA), its management recently sounded optimistic about its prospects in the country. 
Management said that Amazon not only increased its product catalog in the market by 75% in 1Q17 but also expanded its fulfillment capacity by 26%. More Indians are also engaging with the company's shopping app.