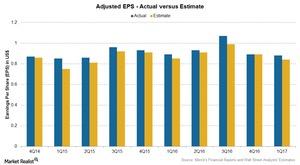 A Close Look at Merck & Co.'s Valuation after 1Q17 Earnings
A look at Merck's valuation
Merck & Co. (MRK) surpassed Wall Street analysts' estimates and reported EPS (earnings per share) of $0.88 on revenues of $9.43 billion for 1Q17, against analysts' estimates of $0.83 on revenues of $9.25 billion for 1Q17.
From an investor's point of view, valuation multiples, including forward PE (price-to-earnings) and forward EV-to-EBITDA (enterprise value to earnings before interest, tax, depreciation, and amortization) multiples are two of the best valuation multiples for valuing large pharmaceutical companies such as Merck, considering the stable and visible nature of their earnings.
Article continues below advertisement
Forward PE
PE multiples are widely available and represent what one share can buy for an equity investor. On May 21, 2017, Merck was trading at a forward PE multiple of ~16.0x. The industry currently trades at a forward PE multiple of ~17.3x.
Other competitors such as Novartis (NVS), Pfizer (PFE), and GlaxoSmithKline (GSK) have forward PE multiples of 16.4x, 12.3x, and 15.5x, respectively.
Analyst ratings and recommendations
MRK stock has risen nearly 16.9% over the last 12 months. Analysts estimate that the stock has a potential to return 8.7% over the next 12 months. Analyst recommendations show a 12-month target price of $69.30 per share compared to $63.78 per share as of May 19, 2017.
Of the 22 analysts covering Merck, 14 have recommended a "buy," and seven have recommended a "hold." One analyst has recommended a "sell." Changes in analysts' estimates and recommendations are based on changing trends in the price of a stock. Analysts' consensus rating for Merck is 2.3, a "moderate buy" for both long-term growth investors and value investors.
To divest the risk, you can consider ETFs such as the Fidelity MSCI Health Care ETF (FHLC), which holds 5.3% of its total investments in Merck & Co.