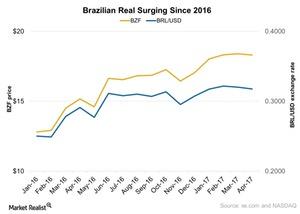 Will the Brazilian Real Keep Strengthening in 2017?
By Mary Sadler

Updated
Brazilian real performance
In spite of the major problems in its political and financial systems, the Brazilian real (BZF) has been rising since 2016. Increased consumer confidence after the impeachment of former President Dilma Rousseff helped the rally in the Brazilian real. Let's look at the performance of the Brazilian real over the past year.
Article continues below advertisement
Performance in 2016
As you can see in the above graph, the Brazilian real (BZF) rose about 20.0% in 2016 against the US dollar (UUP). Brazil's real (BZF) outperformed major developed world currencies (UUP) (FXE) in 2016. The US dollar index picked up pace after Donald Trump won the US presidential election in November 2016, rising about 4.0% in 2016. Latin American commodity-based economies had strong performances in 2016 and are expected to continue strengthening in 2017.
Why the surge in Brazil's real?
Brazil is a key exporter of raw materials and agricultural products. Since it's a major commodity exporter, the value of the real is driven mainly by its buyers. Also, since major commodities are dollar-denominated assets, a strong dollar is seen to impact the movements of the commodities.
With the recent failure of the Trump administration to implement some of its reforms, the US market seems to have lost some confidence. As a result, the US dollar has taken a hit with a shift of investments to currencies in emerging markets. Expectations of increased infrastructure spending may benefit Latin American exporters and their currencies in 2017. However, President Trump's protectionist policies are expected to dampen global trade.
The WisdomTree Brazilian Real Strategy ETF (BZF), which tracks money market rates and currency movements of the Brazilian real against the US dollar (USDU), rose about 6.0% in 1Q17. A weak dollar (UUP) is expected to benefit emerging market currencies (CEW). BZF rose more than 30.0% in 2016, largely due to a weak dollar and the surge in the commodity prices.
Expectations for the Brazilian real seem to be high considering improved economic activity in Brazil and a steady rise in commodity prices globally.
Next, let's look at foreign direct investments in Brazil with the improved economic activity.