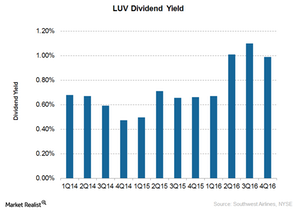 Will Southwest Airlines Increase Its Dividend Payouts?
By Ally Schmidt

Updated
Longtime dividend payer
Southwest Airlines (LUV) has been paying dividends consistently since 1980. It is the only airline to have paid dividends for such a long period. It has also raised dividend payout for the last four years.
The only other airlines paying a dividend are Alaska Air Group (ALK), American Airlines (AAL), and Delta Air Lines (DAL).
Article continues below advertisement
Lowest dividend yield
LUV has one of the lowest dividend yields among industry peers. Delta Air Lines (DAL) has an indicated dividend yield of 2.4%, the highest among the four airlines that pay dividends. Alaska Air Group (ALK) has the next highest indicated dividend yield of 1.3%. Southwest Airlines (LUV) has a dividend yield of 0.99%. American Airlines (AAL) also has a similar indicated dividend yield of 0.95%.
Cash-dividend ratio
LUV's cash-dividend ratio stands at 2.4x at the end of 1Q17, indicating its ability to sustain dividend payouts. Calculated as income before extraordinary items (less minority and preferred dividends) over cash dividends paid, the coverage ratio measures the ability of the company to pay dividends. The higher the ratio, the greater the sustainability of dividends. A coverage ratio of less than one indicates insufficient cash flow for dividend payments.
Can dividend payouts increase?
Southwest has a history of increasing dividend payouts every four quarters. It last increased its dividend payout in 2Q16. Investors can thus expect a dividend increase in 2Q17. However, analysts have not yet built in a 2Q17 dividend increase for Southwest Airlines.
Investors can gain exposure to Southwest Airlines by investing in the Dynamic Leisure & Entertainment Portfolio (PEJ), which holds 4.5% of its portfolio in the stock.