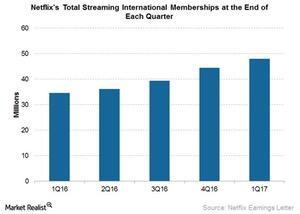 Will Netflix Continue to Grow in International Markets?
By Shirley Pelts

Dec. 4 2020, Updated 10:53 a.m. ET
Netflix's growth in international markets
In international markets, Netflix (NFLX) had total streaming memberships of 47.9 million and net additions of 3.5 million members in 1Q17. The company's total international streaming memberships fell slightly short of its internal estimate of 48.1 million members.
In an earlier earnings letter to shareholders, the company stated that ~47% of its members had come from international markets. It also said that it was targeting a 7% operating margin on a global basis in 2017. However, in 1Q17, Netflix had a high global operating margin of 9.7% due to its shifting the premiere of Season 5 of its popular show House of Cards to 2Q17.
As a result, Netflix expects a global contribution margin of 4.4% in 2Q17. It also expects to have higher net additions of members in 2Q17. It believes that as the popularity of its original content grows and people become more aware of Internet television, its subscriber base should grow.
Netflix's international net subscriber additions fell 22% year-over-year (or YoY) as a result of a difficult comparison to 1Q16. In 1Q16, Netflix launched in ~130 countries. As a result, it experienced a surge in memberships.
Article continues below advertisement
Netflix's forecast for 2Q17
Netflix had international revenue of $1 billion in 1Q17, and it expects its revenue to rise 9% to $1.1 billion in 2Q17. Netflix's revenue in 1Q17 rose 62% YoY, excluding currency fluctuations of $12 million.
Netflix had an international contribution profit of $43 million in 1Q17. However, the company plans to continue investing in its content throughout the rest of the year, and it expects a contribution loss in 2Q17. In 2017, Netflix expects its contribution loss to substantially improve YoY.