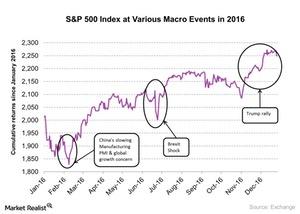 Will the Market See a Correction in 2017?
By Sarah Sands

Nov. 20 2020, Updated 11:51 a.m. ET
Fidelity's Jurrien Timmer in an interview with CNBC
In an interview with CNBC on Monday, April 24, 2017, Jurrien Timmer, the director of global macro at Fidelity Investments, shared his views on the markets, corporate earnings, and Europe (VGK) (IEV).
Article continues below advertisement
Jurrien Timmer on the equity market
After the first round of the France presidential election, the markets (SPY) (QQQ) showed some positive movements. Emmanuel Macron got 23.7% of the votes and Marine Le Pen got 21.7% of the votes. The second and final round of the election will be held on May 7, 2017. The first round of the election met market expectations. Read Inside the French Election: Will the First Round Winners Drive Sentiment? to learn more.
Jurrien Timmer said in the interview that the France election somehow met market expectations and that it's driving the index performance. Since the beginning of April 2017, the market hasn't seen much movement. He also said that there are some macro events that are impacting market performances both negatively and positively. There's always a possibility that the market may show some correction, but in the long run, the market (VFINX) could give good returns.
He said, "There are always tail risks. There's always a 1 in 3 chance that the market goes down 10 percent and a 1 in 5 chance the market goes down 20 percent, but yet over the long term the stock market goes up 10 percent a year about 70 percent of the time. There's always a wall of worry to be climbed." He added, "It's nice to get this one [French election] out of the way."
In 2016, various macroeconomic factors affected the S&P 500 Index (SPX-INDEX). China's slowing manufacturing PMI (purchasing managers' index), the United Kingdom's Brexit decision, the US election, and the Federal Reserve's interest rate hike were the prominent events that affected market movement during the year. The market showed a number of small corrections in 2016. However, the S&P 500 Index (SPY) returned nearly 11.6% in 2016.
In the next part of this series, we'll analyze Timmer's view on corporate earnings.