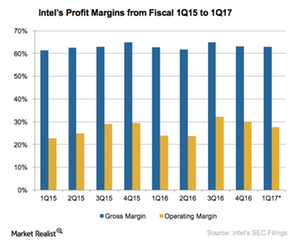 Will Intel's Investments in Growth Affect Its Profitability?
Intel's profitability
Intel's (INTC) revenue growth has slowed since 2012 as its key PC (personal computer) market has started to decline. It's shifted its focus to the data center space, but that market has also slowed as cloud companies have begun using accelerators to reduce their requirements for server chips.
Now, Intel is shifting to other fast-growing markets, wherein investments are high and profit margins are low. Intel is funding these investments via the profits from its PC and Data Center segments.
Article continues below advertisement
Gross margin 
Intel has maintained its non-GAAP (generally accepted accounting principles) gross margin above 60%. Its gross margin tends to expand in the second half of the year as factory utilization improves due to strong seasonal demand.
The company expects to maintain its gross margin at ~63.0% in 1Q17 and 2017 as it transitions to 10nm (nanometer) nodes. The company is also transitioning its 22nm server chips to 14nm nodes, which could increase its costs initially.
Rival Advanced Micro Devices (AMD) is launching competing products at reduced prices in the high-end PC and server markets, pressuring Intel to lower its prices. Moreover, Intel is manufacturing high-cost IoT (Internet of Things), modem, and data center adjacencies that could offset its higher ASPs (average selling price) in the memory and data center spaces. For these reasons, Intel expects its gross margin to contract slightly over the next three years.
However, the company is looking to improve its gross margin by opening its advanced fabrication facilities to third parties. It has partnered with ARM to provide its foundry services, and it's looking to secure a foundry contract with Apple (AAPL).
Article continues below advertisement
Operating margin
On the operations front, Intel improved its operating margin to 30% and above through restructuring in 2H16. In 2016, the company laid off 15,000 employees, bringing in gross savings of $1.6 billion.
Intel expects its operating margin to fall from 30% in 4Q16 to 27.7% in 1Q17, as its operating expenses are unlikely to fall along with its revenue. Its operating expenses are expected to fall 1.8%, while its revenue is expected to fall 9.7% sequentially in 1Q17.
Intel is refocusing its R&D (research and development) efforts in growth areas. It's increased its R&D spending in the IoT and memory spaces, and it's reduced its spending in the PC and mobile spaces. It exited the mobile SoC (system on chip) market in 2016 to focus on wireless connectivity. With these efforts, it expects to improve its operating margin from 27.7% in 2016 to 28.7% in 2017.
Many analysts believe that the increasing cost of manufacturing and R&D indicate that Moore's law is coming to an end, but Intel says otherwise. We'll look into this in the next article.