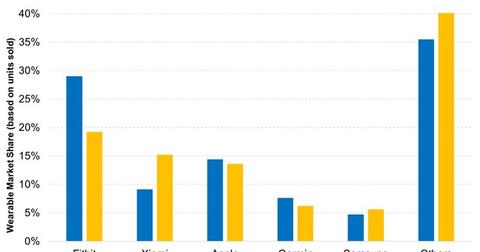 Will Fitbit Lose More Market Share?
By Sanmit Amin

Apr. 28 2017, Published 3:47 p.m. ET
Wearable technology is growing rapidly
The wearable sector has seen robust growth since the turn of the decade as more and more people adopt new technologies. Wearable devices are swiftly advancing in terms of technology, size, and functionality. In this series, we'll highlight the major trends impacting the wearable industry.
Article continues below advertisement
Fitbit is losing market share
Fitbit (FIT) has maintained its lead in the sector with a 19.2% share in 4Q16 compared to a 32.6% share in 1Q15. Its market share has been eaten up as Xiaomi, Garmin, Apple, Samsung, and other players have entered the market over the years. Xiaomi, in particular, has seen spectacular growth over the last few years, making it the second-biggest player in the wearable tech sector (WEAR). The entries of multiple competitors have caused Fitbit shares to plummet by 81% over the last two years. Since the inception of WEAR ETF in December 2016, the ETF has risen by 11.2%. In the same period, Fitbit's shares have fallen 24.5%.
Recently, Fitbit's Flex 2 device exploded on the wrist of a woman from Wisconsin, resulting in second-degree burns. While this was the first explosion to be reported, it's likely to dent the company's 2Q17 sales. 
Other market players are upping their game
While Apple's (AAPL) share in the wearables market fell to 13.6% in 4Q16, it continued to attract prime buyers and saw its unit shipments rise 13% YoY to 4.6 million units. In fact, the quarter was Apple's best quarter in the wearables segment backed by robust sales during the holidays, according to IDC (International Data Corporation). Apple remains the third-largest player in the segment behind Fitbit and Xiaomi.
While Garmin (GRMN) saw a mild decline in unit sales and market share in 4Q16, higher average selling price helped nullify lower sales. Garmin remains the fourth-largest player in the market. However, Samsung (SSNLF) is slowly catching up.
Samsung offers cellular-enabled wearables, which is why it is creating a niche for itself. You don't need a Bluetooth connection or the phone to be nearby to get notifications on your Samsung watch. The company's market share has risen from 4.7% in 4Q15 to 5.6% in 4Q16.