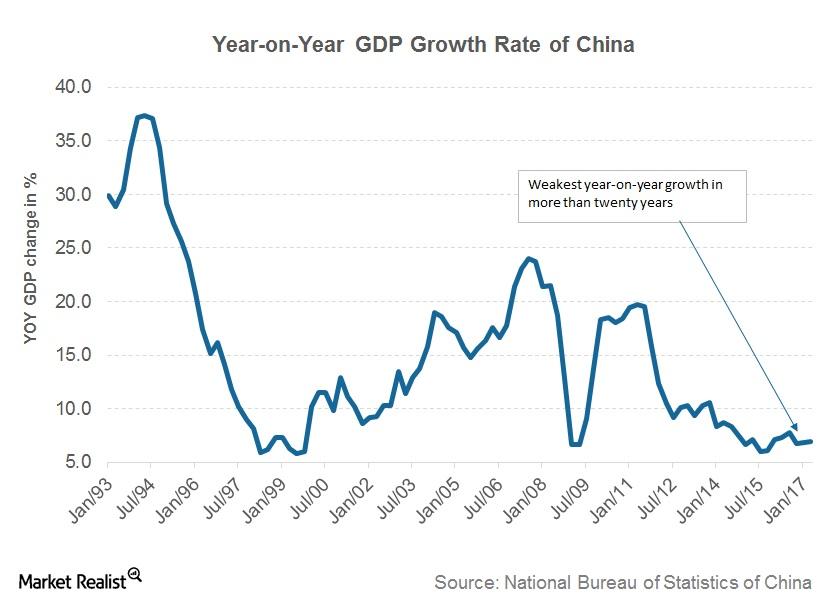 How China Could Worry Global and Emerging Markets
By Ricky Cove

Apr. 19 2017, Updated 7:38 a.m. ET
Growth patterns in the EM space
Emerging markets have been a go-to place for the international investment community for the past decade. Lower bond yields and stagnant growth in the developing markets have landed investors in the high-growth corridors of emerging markets, which have been growing at a range of 4%–7% per year.
According to IMF (International Monetary Fund) projections, growth in emerging and developing economies is expected to increase from 4.4% in 2016 to a mere 4.7% in 2017 because they will face a multitude of risks in days to come.
Article continues below advertisement
Key countries and their outlook
Meanwhile, China (BIDU) (FXI) and India (IBN) remain frontrunners in the EM (emerging market) space, while other EM economies (IEFA) catch up. Despite the slowdown and debt overload in China, growth has been impressive, while in India, aggressive policy reforms and consistent economic growth are attracting considerable fund flows and keeping the engine running.
EM economies that are not doing well, including Russia, Brazil, the Middle East, and a few countries in Africa, are expected to pick up in the near term, but this change will depend on a sustained rise in commodity and oil prices.
Risks in emerging markets 
China, of course, is a key source of concern in the EM space. A continued slowdown in China will have a cascading effect on trade, commodity prices, and investor confidence. Meanwhile, rising interest rates in the US could make it harder for EM economies to attract investments and could also lead to the local currency (HEFA) depreciation. At the same time, more geopolitical tensions could give rise to a sudden spurt of risk aversion, which could cause a contagion in the EM space, driving investors to flock toward safe-havens.
Emerging and developing economies are thus likely to be casualties of a larger risk-off event, but China could be an exception, as it remains a cause for concern, given its current economic conditions and potential risk triggers.