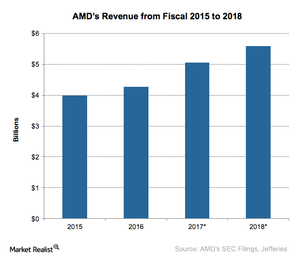 Will AMD Report Record Revenue in Fiscal 2H17?
AMD broadens its growth drivers
In the previous part of the series, we saw that Ryzen CPUs (central processing units) will drive Advanced Micro Devices' (AMD) revenue in fiscal 1H17.
Hewlett-Packard (HPQ), Sony (SNE), and Microsoft (MSFT) accounted for 59% of AMD's revenue in fiscal 2016. This amount is likely to shift as AMD makes efforts to grow its CPU and GPU (graphics processing unit) business.
Article continues below advertisement
Fiscal 2H17 revenue estimates
For fiscals 3Q17 and 4Q17, AMD's revenues are expected to rise 50% YoY (year-over-year) to around $2 billion in each quarter. This growth will likely come from the full-quarter sales of the company's Ryzen CPUs, Naples CPUs, and Vega GPUs in the gaming and workstation markets.
AMD's sales in the workstation market will mostly be of high-value CPUs and GPUs. Moreover, there will likely be strong demand from Sony and Microsoft as they launch their new game consoles.
Growth should be higher in fiscal 3Q17 when AMD starts shipping chips to OEMs (original equipment manufacturers) as they prepare for the holiday season. OEMs generally order CPUs last, as they're expensive components.
Intel earns 46%, or over $25 billion, of its fiscal 2016 revenue from HP, Dell, and Lenovo combined. If AMD succeeds in getting even a 20% share from these three OEMs, it will earn an annual revenue of $4 billion–$5 billion.
Long-term revenue estimates
As AMD launches new products, analysts will likely revise their long-term revenue estimates for the company. Analyst Mark Lipacis has revised Jeffries' revenue estimate for AMD from $5.0 billion to $5.1 billion for fiscal 2017 and from $5.5 billion to $5.6 billion for fiscal 2018.
AMD's growth surrounded by risks
While future growth prospects look bright for AMD, it's subject to several challenges. AMD has a history of product failures or delayed launches. Any miss in the implementation of its growth plan could prove to be costly.
Another major risk is AMD's concentrated customer base. It earns 59% of its revenue from just three customers. Like Nintendo, if Sony or Microsoft decide to switch to NVIDIA (NVDA), it will significantly affect AMD's earnings, sending it deep into the red.
Also, the weakening PC (personal computer) market poses a broader risk for AMD. While the company is looking to grow in the PC market by gaining market share from Intel, a faster fall in PC sales will likely wash away its growth opportunities.
Next, let's look at AMD's target market for new products and how it plans to grow in these markets.