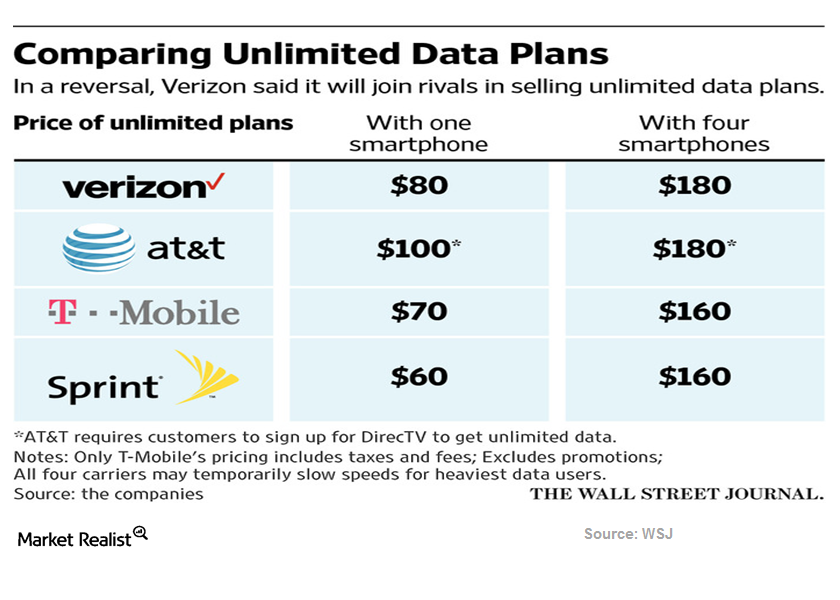 Why VZ's Unlimited Data Plan Could Be Negative in the Long Term
By Ambrish Shah

Apr. 5 2017, Updated 9:07 a.m. ET
Competition in the US wireless space
Currently, the four major US telecom carriers are looking to gain market share by offering unlimited data plans and investing in capital expenditure (or capex) to improve their networks.
Verizon (VZ) and AT&T (T) are facing tough competition from smaller rivals T-Mobile (TMUS) and Sprint (S), which are using pricing to aggressively gain subscribers.
According to a FierceWireless report on March 6, 2017, "Verizon's decision to offer unlimited helps near-term subscriber growth and should enable it to avoid extending its two-year losing streak of customers in Q1."
According to the same report, "It does have a negative impact over the longer term, which we believe outweighs the benefits. We estimate Verizon Unlimited cost the company. . .$3 billion of value or 75 cents per share based on the analysis."
T-Mobile launched its T-Mobile ONE plan, an unlimited offering, in September 2016. This plan is driving the company's customer additions. In January 2017, T-Mobile launched Un-Carrier Next, in which the advertised prices of unlimited data plans include all additional fees and taxes.
Article continues below advertisement
T-Mobile's new T-Mobile ONE plan seems to be going over well with consumers, and it's resulted in Verizon's porting ratios rapidly tilting in T-Mobile's favor. These losses are likely why, after eliminating unlimited wireless data plans nearly five years ago, Verizon has re-introduced an Unlimited offering with four-line pricing largely matching AT&T's. 
However, the pricing for this new plan from Verizon is surprisingly not higher than Sprint's or T-Mobile's.
Verizon's unlimited data plan
Verizon's unlimited data plan includes $80 for one line, $140 for two lines, $160 for three lines, or $180 for four lines of unlimited data, talk, text, and 10 GB (gigabits) per month of LTE (long-term evolution) tethering with e-billing and Autopay.
In comparison, AT&T offers a four-line unlimited data plan at $180, and T-Mobile offers a four-line unlimited data plan at $160, inclusive of taxes and fees. Last month, Sprint launched a promotional offer of two lines for $90 per month. Customers could also add two more lines for no additional charge.