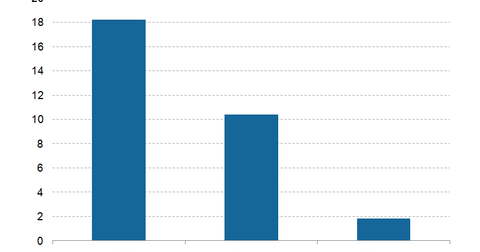 Why T-Mobile Believes 5G Will Move across All Spectrum Bands
By Ambrish Shah

Updated
T-Mobile's 5G strategy
T-Mobile's (TMUS) perspective of 5G (fifth-generation) technology is currently limited since 5G and market creation could take a few years. T-Mobile is considering the future opportunities and limitations of 5G technology, which densifies the network with small cells. The company noted during its 4Q16 earnings conference call that it believes that lower latency, rather than just capacity, is the big differentiator of 5G.
Article continues below advertisement
During the Citi European & Emerging Markets Telecoms Conference on March 21, 2017, Neville Ray, T-Mobile's chief technology officer, spoke about T-Mobile's progress in the 5G space. He said, "At this point in time I am not a huge believer in the Verizon model on 5G wireless fiber or the broadband distribution replacement. Obviously we are testing. We've done a huge volume of 5G testing. We have 5G radio, 28 gigahertz, all those pieces. We are trialing, testing, doing all the things."
He went on to say, "5G is going to move across all spectrum bands over time. You cannot cover the US with 2.5 gig spectrum. You're going to have to push 5G for great IoT and low latency into all bands over time. And I think it's going to [be] really interesting; the industry is very fragmented both geographically, nationally."
AT&T could be another aggressive player in the 5G market
AT&T (T) has also been an aggressive player in the 5G market, and it has tried to outbid its rivals in order to gain spectrum advantage. It was the highest bidder at the AWS-3 (Advanced Wireless Services) spectrum auctions in early 2015 and purchased spectrum worth $18.2 billion.
The AWS-3 spectrum auction was the major auction conducted by the FCC (Federal Communications Commission) after 2008. As you can see in the above graph, Verizon (VZ) and T-Mobile also participated in that auction and made winning bids of $10.4 billion and $1.8 billion, respectively.
AT&T's proposed acquisition of Time Warner (TWX) could help AT&T lower its capex (capital expenditure) investments. Time Warner's minimal capex requirements could balance out AT&T's higher capex needs. As a result, AT&T would have more resources and opportunities to invest in 5G technology.