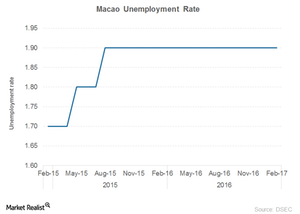 Why Should Investors Keep a Watch on Macao's Unemployment Rate?
By Ally Schmidt

Apr. 4 2017, Updated 7:37 a.m. ET
Unemployment rate
The unemployment rate indicates the percentage of the labor force that is currently unemployed and actively seeking employment. 
Macao's unemployment rate was as high as 7% in 2000. Growth in the tourism and gaming industry helped to curb the high rate. Macao's unemployment rate has averaged ~3.8% from 1996 to February 2017.
From December 2016 to February 2017, the unemployment rate stood at 2.0%. During the same period, the underemployment rate stood at 0.5%, while the labor force participation rate stood at 70.9%. Labor force participation in the region has been falling since 2014.
Article continues below advertisement
The underemployment rate takes into account workers that are currently working part-time and would prefer to work full-time and workers who are working in low-paying jobs despite being highly skilled. The labor force participation rate measures the percentage of the population aged 15 and above that is economically active.
Gaming employment fell from 82,500 to 81,300 in the period. In wholesale and retail trade, employment fell from 47,400 to 47,300, and in construction, it fell from 35,200 to 35,000. On the other hand, the hotel sector's employment rose from 29,900 to 30,400, and the restaurant sector's employment was stable at 24,800.
Takeaway
Lower unemployment rates could drive demand for leisure activities, and higher wages could drive the disposable incomes of local consumers. These factors could be positive signals for companies operating hotels and casinos such as Las Vegas Sands (LVS), MGM Resorts (MGM), Wynn Resorts (WYNN), Galaxy Entertainment, and Melco Crown Entertainment (MPEL).
However, since most of these companies are developing new properties in the Cotai Strip in Macao, increased demand could signal higher bargaining power for casino employees, increasing casinos' labor costs.
Investors can gain exposure to LVS and MGM by investing in the Vanguard Consumer Discretionary ETF (VCR), which invests 0.79% and 0.4%, respectively, in these stocks.