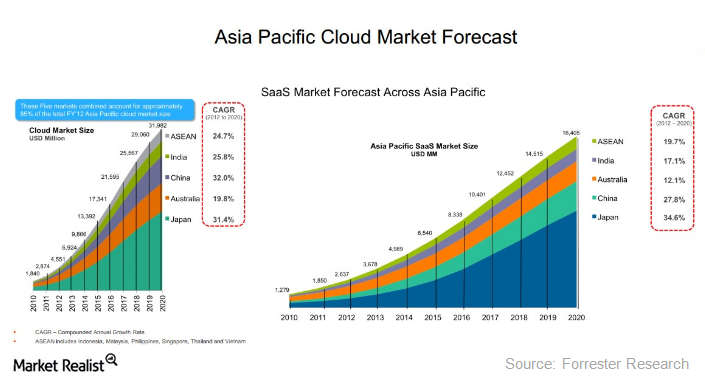 Why Salesforce Is Focusing More on the Asia-Pacific Region
By Anne Shields

Apr. 24 2017, Updated 6:05 p.m. ET
Salesforce's diversification plans tilt towards Asia-Pacific region
Earlier in this series, we discussed Salesforce's (CRM) double-digit growth in the Asia-Pacific region, which is expected to witness huge growth in the near future. Salesforce launched its first data center in 2009 in Singapore (EWS), marking the onset of its international expansion. This data center enabled the company to provide customer support services across the Asia-Pacific region.

Article continues below advertisement
Factors driving demand for managed cloud services
The IT (information technology) environment is engulfed by SMAC (social, mobile, analytics, and cloud) technology. However, key areas such as VR (virtual reality), AR (augmented reality), the IoT (Internet of Things), AI (artificial intelligence), machine learning, and autonomous vehicles are expected to drive $13 trillion in spending in the next computing cycle. This prediction explains why major acquisitions announced by IBM (IBM), Microsoft (MSFT), Alphabet (GOOG), and Salesforce have hovered around at least one of these themes.
According to IBM, there will be more than 30 billion connected devices by 2020, leading to an exponential surge in the volume of data generated. According to a March 2017 report by Research and Markets, this explosion in data has urged businesses in the Asia-Pacific region to redesign their networks and deploy cloud services. Big data and workloads' increased migration to cloud platforms has led to growing demand for cloud technology in the Asia-Pacific region, particularly in countries such as Japan (EWJ), which has an established cloud environment.
According to Jennifer Mazzanti, president of eMazzanti Technologies, "Managed cloud services put enhanced competitiveness, agility and scalability within reach of businesses of all sizes." eMazzanti Technologies is a network solutions company specializing in security, firewalls, and VPNs (virtual private networks). Although the above chart provided by Forrester Research is dated, it does provide a glimpse of the growth expected in the cloud space in the Asia-Pacific region.