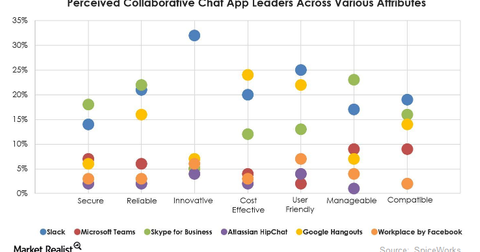 Why Microsoft Teams Could See Increased Adoption in 2017
By Anne Shields

Updated
Slack rules the collaborative chat space
Previously in this series, we learned that although Microsoft (MSFT) Teams is a relatively new offering in the workforce collaboration space, its adoption and usage is expected to outgrow peers such as Google (GOOG) Hangouts and Slack in the near future.
However, we shouldn't construe from Spiceworks's survey results that Slack lacks in popularity. According to the survey, when innovation is chosen as a priority, Slack was chosen as the "runaway leader" by IT professionals. Slack is preferred five times to one as the category leader over its peers. The chart below shows the results of the survey, where Slack emerged as the overall leader.

Article continues below advertisement
Skype for Business is preferred by large organizations
Slack and Skype for Business emerged as the top collaborative chat apps when IT professionals considered features like security, reliability, and innovation.
Skype for Business was a leader when security, reliability, and manageability were taken into consideration. This also explains the increased popularity of Skype for Business in enterprises and large organizations, as these three features are usually of paramount importance to large organizations. It also implies that features like innovation and user-friendliness are a low priority when collaborative chat apps are chosen for business purposes.
Slack's popularity shows that Microsoft Teams still falls well behind Slack. With Skype for Business as a leader, Microsoft Teams could rise faster in the collaborative space.