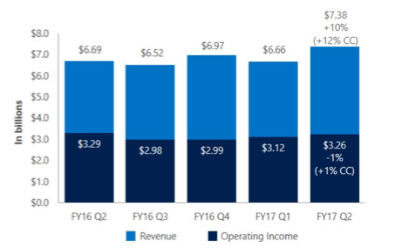 Why Microsoft Acquired Intentional Software
By Anne Shields

Updated
Intentional Software would boost Microsoft's Office Productivity
Last week, Microsoft (MSFT) going with the trend of M&A[1. mergers and acquisitions] in the cloud space, announced the acquisition of Intentional Software. Financial details of the buyout were not disclosed.
Intentional Software, known for what it calls "Intentional Programming," designs and markets software that concentrates on and captures computer users' intention and simplifies programming. According to Rajesh Jha, executive vice president for the Microsoft Office product group, Intentional Software has evolved "to develop productivity scenarios for the future workforce."
Article continues below advertisement
Interestingly, Microsoft's acquisition of Intentional Software marks the return of Charles Simonyi, an early Microsoft employee, Simonyi is Intentional Software's founder, chairman, and chief technology officer. He left Microsoft in 2002, where he led the effort to build and oversee Microsoft Word and Excel.
Intentional Software would strengthen Microsoft's Productivity and Business Processes segment
According to Microsoft, Intentional Software would be integrated with the company's Productivity and Business Processes segment, which is composed of the cloud version of Office, Office 365, and a traditional version of Office and Dynamics 365.
In fiscal 3Q17, this segment grew 22% to ~$8.0 billion in constant currency terms. Office 365 was a key growth driver for this segment in the last quarter.
Office 365's commercial revenues rose 45% in constant currency terms. Office 365's revenue growth was collectively driven by installed base growth across all workloads and ARPU (average revenue per user) expansion.
The increasing adoption of Office 365 can be attributed to Microsoft's decades-long presence in the enterprise software space. As a result, Microsoft has an enormous installed base that Office 365 is leveraging to increase its adoption.