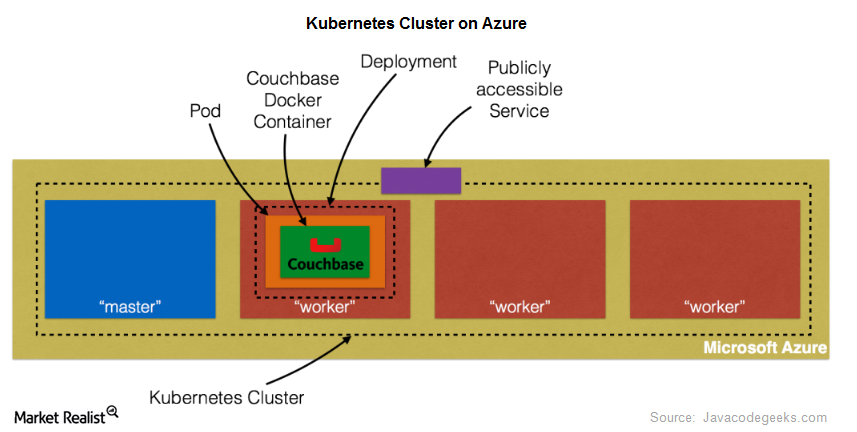 Why Microsoft Acquired Deis
By Anne Shields

Apr. 17 2017, Updated 9:06 a.m. ET
Microsoft targets container technology with the acquisition of Deis
So far in the series, we've look at market expectations for International Business Machines' (IBM) soon-to-be-announced fiscal 1Q17 results. Strategic Imperatives and the cloud are expected to once again dominate its earnings. Its peer Microsoft (MSFT) is also aggressively chasing growth in the cloud.
Close on the heels of its strategy to compete with Amazon (AMZN), the undisputed leader in the cloud space, Microsoft announced the acquisition of Deis on April 10, 2017. Deis is an open source cloud company known for its container technology that eases the process to build and manage applications.
Deis uses Kubernetes, an open source software that allows developers to mechanize the deployment, scaling, sharing, and running of applications. That explains its popularity with developers and companies. Kubernetes is a container technology, developed by Google (GOOG).
Article continues below advertisement
Microsoft Azure's association with Kubernetes
In February 2017, before Microsoft acquired Deis, Saurya Das, Microsoft's program manager, announced that Kubernetes is available on ACS (Azure Container Service). ACS is the docker container environment available from the Azure cloud platform.
Docker is an open source software that works on container technology. It enables software developers to construct, test, and deploy software. It packages together those essential components required to make an app (application) or container work quickly.
Companies can then send these apps or containers to servers in the cloud or corporate data centers anywhere in the world for wider deployment. Docker containers are thus looked upon by companies as ways to build software and compress more capacity more efficiently from their existing infrastructures.
This move by Microsoft widened its ACS users' realm. When required to choose a container orchestrator for their environments, they now have their pick among Kubernetes, Docker Swarm, and Mesos. Maximizing customers' choices seems to be the top priority for Microsoft.