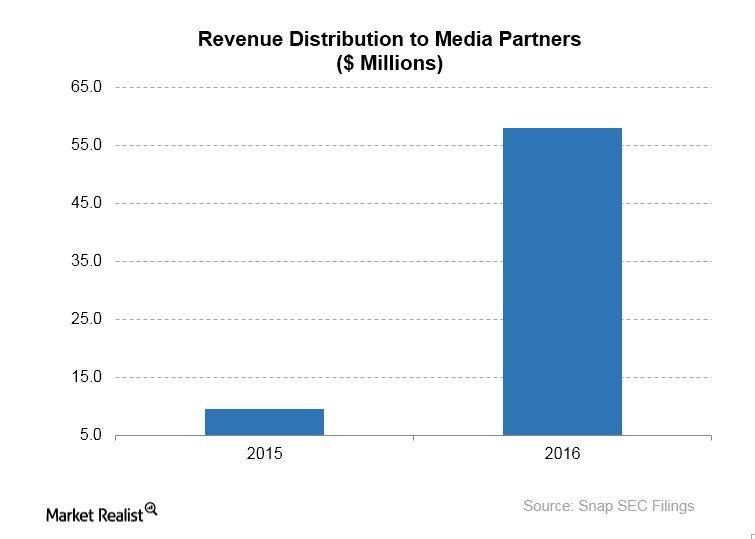 Why Media Partnership Is a Big Deal for Snap
Courting publishers to boost engagement
Media partnerships are crucial to the success of Snap's (SNAP) popular features such as Discover and Live Stories. The company's media partners contribute articles and videos to these sections, and Snap monetizes the content through ads and then shares the revenue with publishers.
According to estimates by research firm eMarketer, the Discover feature is a major contributor to Snap's top line. It said the feature brought in nearly half of Snap's revenue in 2016, contributing $149.8 million to its top line. That was 43.0% of the company's total US (SPY) revenue that year.
Article continues below advertisement
$58 million in revenue released to media partners
In 2016, Snap distributed $58.0 million to its media partners. The revenue was from ads on its content and its disappearing photo app (application). The amount paid to media publishers rose sharply from $9.6 million in 2015, according to Snap's regulatory filing. The above graph shows how Snap's revenue distribution to media partners has grown.
Snap's partners in media and marketing
Media outlets who contribute content to Snap's Discover section include Time Warner's (TWX) CNN and Disney's (DIS) ABC. The company has continued to pursue more media partnership deals as it seeks to improve user engagement on its disappearing photo app. Other than content publishers, Snap also has reached out to major advertising network brands such as WPP and Interpublic Group of Companies (IPG) to funnel more of their ad spending to the app.
2017 revenue estimates
eMarketer estimates that Snap's US revenue will more than double to $804.0 million in 2017 as Discover and Live Stories continue to draw users, publishers, and advertisers.