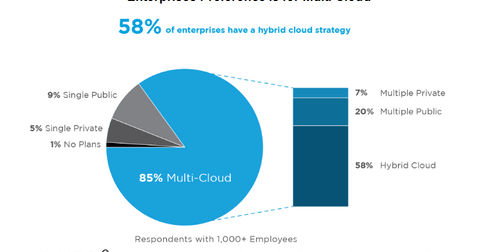 Why Is VMware Focused on the Hybrid Cloud Space?
By Anne Shields

Updated
VMware's focus on HCI and strategic partnerships
Earlier in the series, we discussed VMware's (VMW) new offerings, namely its NSX, VSAN (virtual storage area network), and VxRail software, and their performances in the networking space in the last quarter. According to VMware, the VMware Cloud Foundation "is at the core of our hybrid strategy."
VMware's focus on the HCI (hyper-converged infrastructure) space will also benefit the company in the hybrid cloud space, as HCI enables the easy storage and management of data across public cloud and private servers. This capability is vital for companies who adopt hybrid approaches to the cloud.
The benefits offered by HCI explain the reason behind its popularity with small companies. HCI is also preferred by big companies when they want to run desktop systems and manage branch offices remotely.
IBM (IBM) is a leader in the hybrid cloud space. Amazon (AMZN) has also seen the increased adoption of hybrid cloud technology. In 2016, VMware entered into partnerships with both these companies, which was symbiotic to all three of them in the hybrid cloud space.
Article continues below advertisement
Hybrid cloud adoption is on the rise
Earlier this month, we discussed how the global outage of Microsoft's (MSFT) and Amazon's services paved the way for the increased adoption of hybrid cloud technology. This move toward the hybrid cloud was evident in RightScale's 2017 report, which said, "The RightScale 2017 survey showed that enterprise multi-cloud and hybrid cloud adoption continues to grow, and even with that growth, challenges are decreasing."
According to a March 24, 2017, research report released by hardware technology company (QQQ) NetApp (NTAP), information technology managers in the United Kingdom, France, and Germany have recognized the benefits of adopting hybrid cloud technology.