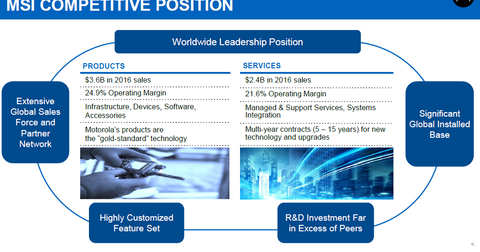 Why Is Motorola Solutions So Optimistic about Long-Term Growth?
By Adam Rogers

Updated
Competitive position
Motorola Solutions (MSI) is one of the market leaders in the mission critical communication segment. The firm has a huge client base with an installed base of over 12,000 private networks. In order to stay ahead of peer companies, MSI has invested over $500 million in R&D (research and development) and $1.3 billion in mergers and acquisitions in 2016.
In 2016, MSI announced that it had completed the acquisition of Airwave, the largest operator of public safety networks in the world. According to MSI CEO (chief executive officer) and Chair Greg Brown, this acquisition should help Motorola grow its managed and support services business significantly. Motorola Solutions is now the leading provider of public safety systems globally.
The acquisition should also increase MSI's recurring revenue streams by 50% and provide it with geographic diversification and additional smart public safety applications.
Article continues below advertisement
Revenue and cash flow
MSI generated over $6 billion in revenue and $1.2 billion in operating cash flow last year. At the end of fiscal 2016, it had a backlog revenue of over $8 billion—a record for the firm. Over 25% of MSI's revenue is recurring in nature. The firm's strong balance sheet and robust cash flow should help MSI allocate resources for long-term growth.
Analysts estimate that MSI's revenue will rise 4.7% YoY to ~$1.3 billion in 1Q17, 0.2% YoY to ~$1.4 billion in 2Q17, and 1.8% YoY to ~$6.1 billion in fiscal 2017.
Notably, over 40% of MSI's revenue is generated through its Services business segment. This segment is growing at a rate faster than the core business. MSI's Product revenue was $3.6 billion in fiscal 2016, with an operating margin of 24.9%, whereas its Services revenue was $2.4 billion, with an operating margin of 21.6%.