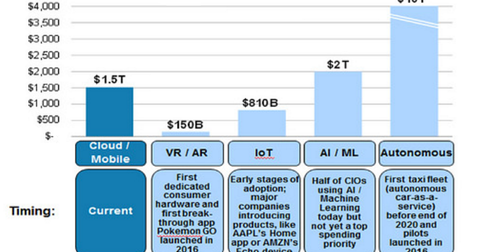 Why IBM's Patent for Self-Driving Vehicles Is Worth Considering
By Anne Shields

Updated
IBM patents self-driving car innovation
Earlier in this series, we saw that International Business Machines' (IBM) Strategic Imperatives segment is likely to dominate the company's fiscal 1Q17 results. In late March 2017, IBM announced that it received a patent for its ML (machine learning) system. It enables control of a self-driving vehicle to potently shift from a human to an AI (artificial intelligence) driver in case of an emergency.
IBM's innovation is designed to avert accidents. It also shows the company's massive push to self-driven vehicles. On its system creation, IBM said that its "researchers developed the patented system using their understanding of biological cognition and behavior generation in the brain."
IBM's system uses AI to analyze accessible information from its sensors. It ascertains whether the vehicle's self-driving system or the driver has a fair chance of driving the vehicle safely, considering the present condition.
In 2016, IBM topped the list of companies with the maximum patents for the 24th consecutive year. It also marked the first period in which its patents crossed the $8,000 threshold.
Article continues below advertisement
Technology sector's increased interest in the autonomous vehicle space
In mid-June 2016, IBM Watson entered the self-driving vehicle space when Local Motors launched the first self-driving vehicle called Olli. Olli integrated IBM Watson's cognitive computing capabilities and IoT (Internet of Things) in order to enhance the passenger experience and enable interaction with the vehicle.
Alphabet's (GOOG) self-driving cars have already hit the road. In April 2016, Microsoft (MSFT) and Amazon (AMZN) were considering taking a minority stake in Here, a digital mapping service.
Currently, SMAC (social, mobile, analytics, and cloud) technologies are engulfing the IT environment. SMAC, VR (virtual reality), AR (augmented reality), IoT, AI, ML, and autonomous vehicles are the key areas that are expected to drive the $13.0 trillion spending forecast for the next computing cycle.That explains why technology companies, especially IBM, are being drawn to the autonomous vehicle space.